Does California's Implied Consent Violate the 4th Amendment?
The U.S. Supreme Court recently ruled on whether the implied consent laws of North Dakota and Nebraska violate the Fourth Amendment's warrant requirement. Such laws in Nebraska and North Dakota criminalize a refusal to submit to blood alcohol concentration (BAC) testing through a breathalyzer or blood testing. California likewise considers this type of refusal a crime punishable under Vehicle Code § 23612.
In a Nutshell: California's implied consent law, making punishable a refusal to submit to a breath or blood test (at Vehicle Code § 23612), is not unconstitutional as a violation of the Fourth Amendment.

In California, if one cannot submit to either a breath or blood test, the driver must submit to the other test. For example, if one cannot provide a breath sample, perhaps because the person is a heavy smoker and the lungs are weakened, the person is suffering from an asthma attack or is hyperventilating due to anxiety, the person must submit to a blood test without a warrant.
In October, 2013, Danny Birchfield drove his car off a North Dakota highway and got stuck in a ditch. A state trooper arrived at the scene and attempted to help Birchfield out. As he was doing so, he allegedly noticed that Birchfield smelled of alcohol, his speech was slurred and he struggled to stay steady on his feet.
Birchfield consented to a roadside breath test. His BAC was 0.254%. As in California, the result of this type of test can be inadmissible in court, so after Birchfield was arrested and taken to the police station, he was asked to submit for a blood test. Birchfield then refused.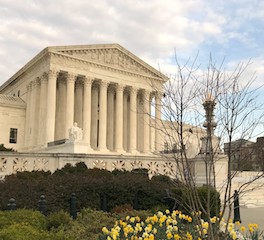 U.S. Supreme Court
Birchfield was later prosecuted and pled guilty to a misdemeanor violation of North Dakota law for refusing the blood test. His plea was a conditional plea in that while pleading guilty, he argued that the North Dakota statute criminalizing a refusal to submit to a blood test violated the Fourth Amendment.
The North Dakota state court rejected this argument and sentenced Birchfield to 30 days in county jail, one year of unsupervised probation and $1,750 in court fines and fees, as well as mandatory participation in a sobriety program and a substance abuse program.
On appeal, the North Dakota Supreme Court affirmed the trial court, citing to
Missouri v. McNeely
(2014) 569 U.S. 141, "which had spoken favorably about 'acceptable tools' with 'significant consequences' for refusing to submit to testing." Birchfield then appealed to the U.S. Supreme Court.
Two additional cases, one more from North Dakota and one from Nebraska, were also ruled upon by their respective state supreme courts and appealed to the U.S. Supreme Court at the same time and were consolidated with
Birchfield
. This article, however, will only address the appeal filed by Mr. Birchfield.
The U.S. Supreme Court offered two rulings in
Birchfield
that are simultaneously bad and good for California citizens.
In looking at the facts of the case and the Fourth Amendment, as well as the extensive case law interpreting search and seizure in the context of the implied consent laws, the court noted that breath tests do not "implicate significant privacy concerns."
Skinner v. Railway Labor Executives Ass'n
(1989) 489 U.S. 602, at 626. After all, "the physical intrusion is almost negligible."
Id
.
In contrast to a blood test, there is no piercing of the skin. No biological sample is left in the government's possession as in a blood test. Requiring a breath test without a warrant is thus not a Fourth Amendment violation, the U.S. Supreme Court held.
Blood test however, as noted above "are a different matter." The U.S. Supreme Court explained that extracting blood from a person is a significant intrusion by police. It is certainly governed by the Fourth Amendment.
Skinner
,
supra
. However, the court held that "motorists may not be criminally punished for refusing to submit to a blood tests based on legally implied consent to submit to them."
The court distinguished its holding from civil penalties that may result, such as here in California with the DMV, saying such penalties are permissible, but it is "quite another thing for a state to insist upon on intrusive blood test and thus impose criminal penalties for a refusal to submit.
Our office finds this ruling to be quite important because on one hand, the court holds that no warrant is required to search one's breath for alcohol, but on the other hand, a state cannot criminally penalize someone for refusing to submit to a blood test.
We believed it will not take long for someone to appeal their sentence for violating Vehicle Code § 23612 based on refusing a blood test. We hope such a conviction will be reversed.
For more information . . ." that states: "The citation for the U.S. Supreme Court ruling discussed above is Danny Birchfield v. North Dakota (2016) 579 U.S. ____, 136 S. Ct. 2160, 195 L. Ed. 2d 560.
For more information about refusal to submit to a DUI test and DUI in general, please click on the following articles:
Contact us.