Is an Unsealed Bag of Pot Probable Cause to Search Purse?
While Proposition 64 has legalized possession of marijuana by most people age 21 and older, it remains illegal to possess an open container of cannabis while driving. It also remains illegal to drive while under the influence of marijuana.

The Gist of this Article: An open bag of pot, tucked into a car passenger's cleavage, but visible to police officers standing outside the car, does constitute probable cause to search the car under the automobile exception to a warrant and because driving on a highway while in possession of marijuana violates Vehicle Code § 23222(b). Had the bag been sealed, the automobile exception would not have applied.

On July 28, 2018 (after Proposition 64 had passed in November 2016), Tyrone Brendon McGee was driving his car in Stockton, California with expired registration. His girlfriend was in the passenger seat.
Stockton Police Officers Greg Spears and David Muser were on patrol and saw McGee's car with expired registration. They made a traffic stop on that basis (which was proper under Whren v. United States (1996) 517 U.S. 806, 810, 135 L. Ed. 2d, 89, 95). After McGee pulled over, Spears approached the driver's side of the car and Muser approached the passenger side. As both officers approached the car, they could smell unburned marijuana.
Officer Spears asked McGee if he had any marijuana in the car and McGee said no. Muser, meanwhile, could see that McGee's passenger had an unsealed baggie of marijuana tucked in her cleavage and told McGee that he could see marijuana. Spears then had McGee step out of the vehicle and Muser had the passenger exit the vehicle and hand over the unsealed bag of marijuana to Muser.
Once both occupants were out of the car, Muser searched the car. He opened a zipped purse on the passenger-side floorboard and seized a loaded handgun from the purse.
Officer Muser then read Mr. McGee his Miranda rights under Miranda v. Arizona (1966) 384 U.S. 438, 16 L. Ed. 694. McGee then explained that he had come into possession of the gun after a fight earlier in the day. The other person had dropped the gun in the struggle and, McGee explained, he picked it up as the other individual ran away. McGee further admitted that he put the gun in the purse when he noticed the police behind him. McGee, who was a felon, was then arrested and later charged with being a felon in possession of a firearm, a violation of Penal Code § 29800.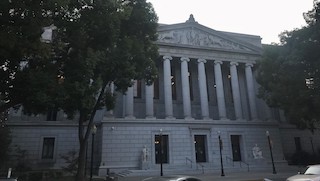 Court of Appeal Third Appellate District Sacramento
After his preliminary hearing in the San Joaquin County Superior Court, McGee moved to suppress evidence of all statements made by him and evidence seized in the search. McGee's counsel argued that since marijuana is now legal in California, the scent of unburned marijuana cannot legally be equated with Mr. McGee or his passenger violating the law and thus cannot give rise to probable cause to allow a search of the car.
The prosecution opposed the motion, arguing that while it is legal to possess small quantities of marijuana, "probable cause to search for marijuana can exist if there's probable cause to believe the marijuana was in violation of additional Health and Safety Code sections that would criminalize such possession." For example, here, the marijuana was not in a closed or sealed container, so it would have been possessed in violation of Health & Safety Code § 11362.3, which prohibits this. Additionally, possessing marijuana while driving on a highway is in violation of Vehicle Code § 23222(b).
The magistrate hearing the motion to suppress agreed with the prosecution and denied the motion. He analogized having unsealed bags of marijuana to having an open container of alcohol in a car. While having an open container of alcohol is only an infraction, it establishes probable cause to search for other open containers of alcohol in the car, so the same could be said for marijuana.

After this ruling, Mr. McGee pled no contest to being a felon in possession of a firearm and admitted having served a prior prison term. The judge then struck the allegation of the prior prison term and sentence him to low term of sixteen months.
Mr. McGee then appealed the ruling on the motion to suppress. The Third Appellate District, in People v. Tyrone Brendon McGee (2020 DJDAR 9129) sustained the trial court's ruling. Interestingly, McGee argued that neither the automobile exception (see People v. Evans (2011) 200 Cal.App.4th 735, 753; see also Carroll v. United States (1925) 267 U.S. 132, 149, 69 L.Ed. 543, 549) nor the search incident to an arrest justified the warrantless search.

The People argued that the automobile exception applied, which the appellate court agreed with, specifically emphasizing that had the bag of marijuana been sealed shut, then the search would have been illegal.
We present this summary because it is quite common for people to have marijuana in a car. This case shows how critical it can be to keep the marijuana in a sealed or closed container to bar a further search of the entire car, leading to the discovery of other violations.
The citation for the Third Appellate District Court ruling discussed above is People v. Tyrone Brendon McGee (3d App. Dist., 2020) 53 Cal. App. 5th 796, 266 Cal. Rptr. 3d 650.
For more information about probable cause to search issues, please click on the following articles: