Is a Sentence of 25 Years to Life Proper for Non-Injury DUI?
Normally, a non-injury DUI is a misdemeanor. It is an expensive misdemeanor and one that courts treat seriously with heavy fines, classes and at least three years of probation. Some counties mandate jail time on all first-time DUI's (Riverside) and others place the defendant on formal probation (Ventura), although most countries do neither (Los Angeles and Orange County, for example).
When the defendant has a prior DUI, the punishment is increased. If the defendant, for example, has a prior conviction for vehicular manslaughter, the current pending DUI can be charged as a felony, even if the vehicular manslaughter conviction is over ten years old. The current DUI can also be charged as a strike, despite its seemingly misdemeanor nature.
Summary in 50 Words or Less: An indeterminate sentence of 25 years to life on a non-injury DUI can result and is proper when a defendant has certain prior convictions, as the following summary epitomizes.

The case of Douglas Harold Doyle epitomized this type of "perfect storm" for a misdemeanor DUI becoming a third strike offense, exposing Doyle to an indeterminate minimum mandatory sentence of 25 years to life.
This was because in December, 1987, he drove his van while under the influence of Valium, cocaine and alcohol. He tried to pass a car on a blind turn and ran head-on into another car, killing its driver. He then pled guilty to felony DUI manslaughter (Penal Code § 191.5), which is a strike. He then pled guilty to a second strike in 2007 for assault with deadly weapon (Penal Code § 245). He also had a prior domestic violence conviction involving his spouse from 1996. Including his prior felony DUI, Doyle had four prior prison priors. This exposed him to a potential sentence of 29 years to life under the Three Strikes Law.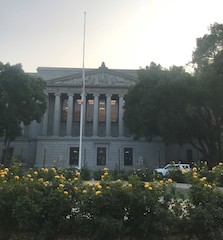 Court of Appeal Third Appellate District Sacramento
The trial judge in Placer County heard Doyle's Romero motion to strike one or both of the prior strike convictions and denied the motion. After all, Doyle had been involved in multiple intervening crimes. Doyle then pled in the open to the judge, who sentenced him to the minimum allowed: 25 years to life as an indeterminate term enhancements.
Doyle then appealed the sentence; contending that the judge improperly used the prior DUI manslaughter to evaluate the current DUI to a felony and also improperly considered it a strike. Doyle's appeal went to the Third Appellate District.
The Third Appellate court, in
People v. Douglas Harold Doyle
(2014 DJDAR 14407), denied Doyle's appeal. Doyle had contended that to both elevate the current DUI to a felony and make it a strike violated equal protection guarantees. It was also a form of double punishment.
Doyle's main argument was that the trial court engaged in "impermissible boot strapping," citing to
People v. Briceno
(2004) 34 Cal. 4th 451. In
Briceno
, the California Supreme Court found that while it was proper to define any felony committed for the benefit of a criminal street gang as a serious felony, it was improper to use the same gang-related conduct again to obtain an additional five-year sentence enhancement under Penal Code § 186.22(b)(1)(B).
Briceno
,
supra
, 34 Cal. 4th at 465.
The Third Appellate District in Doyle's appeal, considered the application of
Briceno
and decided it really didn't apply. In
Briceno
, the statue that turned any prior gang-related felony offense into a strike if defendant re-offended was Proposition 21. In Prop 21, however, voters specifically anticipated such boot strapping as an issue and decided against it. Thus,
Briceno
was inapplicable as an issue and the appellate court decided not to apply it to Doyle. Thus,
Briceno
was inapplicable.
Doyle also cited to
In re Shull
(1944) 23 Cal.2d 745. In
Shull
, the California Supreme Court considered whether the Legislature intended to add a five-year enhancement for use of a pistol to a sentence of ten years for assault with a pistol. The California Supreme Court concluded that it did not believe the Legislature intended to enhance the punishment twice.
The Third Appellate District, however, in considering
Shull
, distinguished it from the Three Strikes Law, Penal Code § 667 (e). The Three Strikes Law, in contrast, was rather clear in permitting additional punishment, as it said its application would be "in addition to any other enhancement or punishment provisions which may apply…" Therefore, the Third Appellate District Court found
Shull
also did not apply.
Doyle then attempted to argue that the Merger Doctrine applicable to felony homicide, where in "bootstrapping" is prohibited. The Third Appellate District, however, found that the second-degree felony murder rule, in the content of the Merger Doctrine, really did not apply to Doyle because he was not facing murder charges and there were no lesser-included offenses at issue. It was just DUI.
So, while Doyle certainly made some academic arguments that applied in different contexts, his strenuous efforts to avoid the plain meaning of Vehicle Code § 23550.5 and People v. Baez (2008) 167 Cal. App. 4th 197, 199 (allowing a successive DUI to a manslaughter DUI to be charged as a felony) and the Three Strike Law were unpersuasive. The trial court's sentence was thus upheld.
The citation for the Third Appellate District Court ruling discussed above is People v. Douglas Harold Doyle (3d App. Dist., 2013) 220 Cal.App.4th 1251.

For more information about the issues in this case, click on the following articles:
Contact us.