Is a Gang-Related Juvenile Probation Condition Always OK?
As the reader of this article may be aware, a judge may impose "any and all reasonable conditions [of probation] that it may determine fitting and proper." Welfare and Institutions Code § 730(b); see also
In re P.A.
(2012) 211 Cal. App. 4th 23, 33.
However, a juvenile court's broad discretion in imposing conditions of probation is not unlimited.
In re D.G.
(2010) 187 Cal. App. 4th 47, 52. In reviewing the validity of a probation condition, the court will not hold a probation condition invalid unless: "(1) it has no relationship to the crime of which the offender was convicted, (2) relates to conduct which is not itself criminal, and (3) requires or forbids conduct which is not reasonably related to future criminality."
People v. Lent
(1975) 15 Cal. 3d 481, 486.
What to Take Away: A juvenile probation condition has less restrictions than one for an adult, but a gang-related probation condition for a juvenile must still "fit" the juvenile's criminal history, the juvenile's likelihood to associate with gang members and the practical effect that such a prohibition will have on preventing future crime by the juvenile.

In contrast to adult probation, a condition that would be improper for an adult is permissible for a juvenile only if it is tailored specifically to meet the needs of the juvenile.
In re D.G.
(2010) 187 Cal. App. 4th 47, 52.
In determining reasonableness, courts look to the juvenile's offenses and social history.
Id.
A judge's reasonableness analysis necessarily must include evaluation of constitutional challenges of vagueness. "A probation condition should be given the meaning that would appear to a reasonable, objective reader."
People v. Olguin
(2008) 45 Cal. 4th 375, 382, quoting
People v. Bravo
(1987) 43 Cal. 3d 600, 606. The vagueness prohibition is based on the due process concept of fair warning. It must be sufficiently precise for the probationer to know what is required of him, and for the court to determine whether the condition was violated."
In re Sheena K
. (2007) 40 Cal. 4th 875, 890.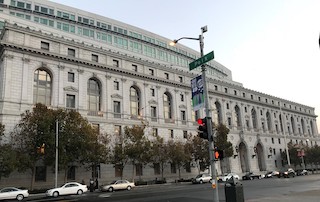 Court of Appeal First Appellate District San Francisco
It is against these legal principles that juvenile Edward B. appealed a condition of probation that he not "knowingly associate with anyone known to the minor to be a gang member or associated with a gang, or anyone who the [probation officer] informs the minor to be a gang member or associated with a gang."
The underlying case involved a purse-snatching by Edward in Berkeley, in Contra Costa County. He walked up to a 66 year-old woman and grabbed her blue purse. Edward was 14 at the time.
Edward admitted the petition that he committed misdemeanor grand theft (Penal Code § 487(c)). He was then placed on probation, first with six months in a rehabilitation center ("the ranch"), and then on probation with the aforementioned prohibition as to gang associations.
Edward filed his appeal with the First Appellate District. Edward's appeal covered three issues, but this article will only address his challenge to the gang associations. Edward argued that the gang condition was unreasonable because it prohibited legal conduct and because, based on the facts and his social history, it was neither related to his offense nor reasonably related to preventing future criminality. After all, even a juvenile enjoys the Constitutional right to associate with others as long as it is not for an unlawful purpose.
In
People v. Edward B.
(2017 DJDAR 3795), the First Appellate District agreed with Edward. It found nothing in the record that Edward is or was a gang member, or that his current friends are affiliated with gangs. At most, the probation report quoted Edward's dad as saying that one of Edward's former friends used to be in a gang, but no longer is. Otherwise, there was no solid evidence even suggesting that Edward committed the offense to promote or further any gang.
Therefore, the appellate court struck the gang association order and remanded the matter to the juvenile court with instructions to amend the probation order.
We bring this article to the reader's attention because quite often, the primary focus in resolving a juvenile case is avoiding a strike or a felony (or time in some form of custody) and probation conditions are often imposed without any objection because one is simply so relieved to go home and end the case, but the probation conditions are so vague that it is easy to violate probation.
The citation for the First Appellate District Court ruling discussed above is People v. Edward B. (In re Edward B.) (1st App. Dist., 2017) 10 Cal.App.5th 1028, 217 Cal. Rptr. 3d 225.

For more information about probation conditions and juvenile cases, please click on the following articles:
Court Rules That, in Drug Case, a Probation Condition Is Proper That Someone Not Associate with Others He Has Reason to Know Are Drug Users
Contact us.