Involuntary Murder Confession? Ninth Circuit Says No.
Why This Article Matters: A confession to police by a 16 year old after being read his Miranda rights was not involuntary, although police improperly suggested leniency in punishment might be possible after the teen's critical admissions to shooting a driver three or four times from point blank range.

On January 17, 2006, in Richmond, California, Jose Segura was shot and killed while sitting in his car with Oralia Giron and their children. According to Ms. Giron, several men surrounded the car. The man standing closest to Segura said that the men wanted revenge for the murder of "Gizmo" (Luis Ochoa, who had been shot the previous day) and then shot a gun, killing Segura. Giron was also shot, but survived and their three-month old son in the car was not injured.
If the reader suspects this shooting may have been gang-related, he or she would be correct.
Police detectives investigating the murder spoke with Kristina Lawson, age 15, who lived nearby the scene. She told officers she saw Alexander Balbuena, age 16, and Julius Stinson with guns just before the shooting. She also stated she heard gun shots, saw Balbuena and Stinson run to a nearby house after the shots and that Balbuena appeared to be holding a gun and trying to hide it. She further stated that later that day at the "Green Store," Balbuena told her that he shot Segura in the forehead.

Balbuena lived in an apartment known to be associated with Richmond Sur Trece (RST), a criminal street gang in Richmond, in a neighborhood known as the "RST compound." The "RST compound" included the "Green Store" that only RST gang members could use to sell narcotics.
Immediately after her interview near the scene, Lawson made similar statements in a recorded interview at a police station. When police arrested Balbuena, he was in bed with his pregnant girlfriend (not Lawson) and a child that was Lawson's son.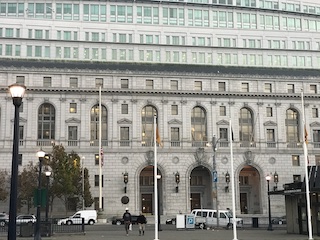 Court of Appeal First Appellate District San Francisco
Balbuena was taken to a police station where two detectives questioned him for approximately 90 minutes, starting at 2:45 a.m. Balbuena had no prior arrests.

At the beginning of the interview, one of the detectives read Balbuena his Miranda rights (Miranda v. Arizona (1966) 384 U.S. 436), advising him that he had the right to remain silent, the right to an attorney prior to questioning and if he could not afford one, a judge would appoint one at no charge to him. Balbuena nodded his head when asked if he understood these rights. The officers then asked him if he was willing to talk to them "about why you were at your house tonight." Balbuena responded, "Yup, Yup."
Balbuena initially denied being at the scene of Segura's murder. Police then falsely told Balbuena that they knew he was at the scene with Stinson because they had already talked to Stinson. They then encouraged Balbuena to be honest, saying "It is important for you to be honest with us so if there is some way to help yourself out, this is the time to do it." They also referred to Balbuena's impending fatherhood, describing Balbuena as "the sixteen-year-old that going to be a father soon."
Balbuena then acknowledged that he was at the scene, but denied having a gun. He then admitted having a .32-caliber handgun (shell casing from a .32-caliber were found at the scene) and shooting three or four rounds at the car's front window. Police then discussed his honesty and how he may receive lenient treatment because he was honest and showed remorse. Balbuena then provided more details and explained it was a gang retaliation murder for the murder of Gizmo.
Before trial, Balbuena moved to suppress his police interview statements as involuntary and the trial court denied the motion.
In April 2008, almost two years and four months after the murder, a jury found Balbuena guilty of first-degree murder, attempted murder and street terrorism (the older description of participation in a crime to further or benefit a criminal street gang). The trial court judge then sentenced Balbuena to eighty-two years-to-life in prison.
Balbuena appealed the verdict, arguing that the trial court judge improperly admitted his police interview. The California Court of Appeal ruling on the appeal agreed that the police improperly offered leniency during the later part of the interview, but that Balbuena made critical admissions, including that he had a .32-caliber gun and that he fired three or four shots – before the detectives employed improper tactics. After considering the totality of the circumstances, including the video recording of the interview, Balbuena's age, experience, demeanor and his waiver of his rights under Miranda, the appeals court concluded that Balbuena's statements were voluntary.

The state appellate court found that any error in admitting Balbuena's statement was harmless because the evidence against him was "very strong," including Lawson's statements that she saw Balbuena at the scene and that he admitted the murder to her later. The appellate court, however, reduced the sentence to 72 years to life.
Balbuena then appealed to the California Supreme Court, which denied review.
In January 2011, Balbuena then filed a timely petition for writ of habeas corpus in the federal district court under 28 U.S.C. § 2254, again arguing that his confession was involuntary. The district court denied the petition on the merits, finding his admission was voluntary.
Balbuena filed a renewed federal writ with a Rule 60(b) motion to add a claim, which the district court denied as an unauthorized second or successive petition under 28 U.S.C. § 2244(b)(3)(A).
Balbuena then appealed that ruling to the Ninth Circuit, which reviewed the appeal on its merits, finding that the tone of the interview was nonthreatening, Balbuena spoke easily with detectives, Balbuena had a calm demeanor throughout and there was no indication of intimidation by detectives or fear in Balbuena. Moreover, there was no indication that he was highly suggestible or easy to manipulate. Thus, his confession was affirmed as voluntary.
The citation for the U.S. Ninth Circuit Court of Appeals ruling discussed above is Alexander Balbuena v. William Joe Sullivan (9th Cir., 2020) 970 F. 3d 1176.

For more information about Miranda issues, please click on the following articles: