Inglewood, Possession of Marijuana, Case Dismissed on Motion
Police from the Hawthorne Police Department pulled over our client, age 27, allegedly for "weaving" while he was driving on South La Brea Avenue. As the reader of this summary may be aware, it is perfectly normal for one to drive with some degree of weaving. After all, no one drives perfectly parallel to the lane markings at all times. Everyone weaves at least a little.
The legal threshold, however, before an officer can make a traffic stop for this is that there must be "pronounced weaving," which several cases have described (one being
People v. Perez
(1985) 221 Cal. Rptr. 776, at 778, 175 Cal.App.3d 1204). Here, while this made the traffic stop vulnerable as illegal, there were other more procedural grounds for dismissal as well.
Summary: Possession of marijuana case dismissed on our "Serna Motion" (Motion to Dismiss for Denial of the Sixth Amendment Right to a Speedy Trial), Inglewood Superior Court.

Once they approached the car, police claimed they smelled the "odor of fresh burnt marijuana" and asked our client if he had been smoking marijuana. This was 2012, so well before Prop 64 had been passed. Our client replied that he indeed had been doing so. Police then searched his car, as he was on formal probation with a Fourth Amendment waiver of the otherwise right he would have against unreasonable searches. Police found a large bag full of marijuana weighing 17 grams in the front seat area of the car, tucked under the seat.
Police searched his car further, finding nothing that would associate him with sales of marijuana. In our experience, having so much marijuana was then almost always charged as possession with intent to sell.
Instead, our client was cited for simple possession of marijuana, a misdemeanor violation of Health and Safety Code § 11357 (now legal under Prop 64 for most people in most locations). He was then booked and released from the Hawthorne Police Department with an arraignment date a few weeks out in the Inglewood courthouse.
File materials did not show he signed a promise to appear at a future date, which is often a normal part of a person's release from custody.
After our client was released, he lost the paper with his court date and did not know what to do. Twenty-two months passed with no letter from the District Attorney's office or police advising him that there was a bench warrant out for his arrest, although he had been stopped several times and his driver's license was "run" on the police car computers, looking for outstanding warrants.
In our experience, this is not uncommon. Quite often, a client of ours will be subject to a bench warrant, but the police car computers will not have this information, especially for misdemeanors.
Twenty-two months after this arrest, our client picked up a further marijuana case, this time for sales. He retained Greg Hill & Associates for this more serious charge out of the Torrance courthouse.
Greg Hill noticed, in reading materials for the client's Torrance case, that there was a bench warrant out of the Inglewood courthouse for the misdemeanor matter. Our client explained what had happened and how he had simply lost the date on the piece of paper.
Greg spotted the issue, that there was a Sixth Amendment violation for failure to arraign the client within one year of the citation. This meant there was a possible "Serna motion" under Serna v. Superior Court (1985) 40 Cal.3d 239, 707 P.2d 793, 219 Cal. Rptr. 420, which if granted would result in dismissal of the case.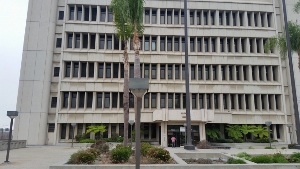 Inglewood Superior Courthouse
About three days later, Greg Hill then appeared in the Inglewood Superior Court and recalled the bench warrant first for the client. He then made an oral (not in writing) "
Serna
motion," which the judge granted. Case dismissed.
The client was extremely pleased, as the dismissal helped him negotiate a better plea bargain in his sales case out of the Torrance courthouse because his prior criminal history appeared less significant.
For more information about the issues involved in this case, click on the following articles:
Sixth Amendment Right to a Speedy Trial Not Violated When There Is a Seven Year Delay Between Arrest and Murder Trial
Watch our video about Drug Offenses by clicking
here
.
Contact us.