Ineffective Assistance of Counsel, Defendant's Mental Health
Many criminal defense attorneys will agree that defending a person who is mentally ill is an enormous challenge, especially when the mental illness is not profound, but considered minimal or insufficient to declare a doubt under Penal Code § 1368 to suspend proceedings. The client usually claims his or her mental issues are a defense, which may seem too convenient and that a jury would reject such a defense.
However, the prudent attorney cannot just disregard such a claim, as the following case shows.
In a Nutshell: In representing a person with significant mental health issues, it is prudent for counsel to share information about defendant's mental health with the prosecution because such evidence certainly can be mitigating and may lead to a more fair resolution, as the following summary explains.

At 11:30 p.m. on October 19, 2018, the San Rafael Police Department responded to an apartment complex in San Rafael over a report that Patrick Sean O'Hearn was acting erratic in the presence of two other residents there.

The police were familiar with O'Hearn from prior instances of aberrant behavior. They met with him in his apartment and confronted him about the report from the other two residents. O'Hearn denied any altercation with the women and, according to the police, "rambled about random topics and said everyone was lying."

The arresting officers suspected O'Hearn suffered from mental health issues and considered whether he was eligible for a Welfare & Institutions Code § 5150 commitment, but decided he did not meet all of the criteria.
The officers then spoke with the two women and while they were doing so, O'Hearn came out of his apartment and yelled at them again. According to the women, O'Hearn threatened to kill them, declaring "I'm going to fucking kill you guys" and "I'm going to kick your ass." The officers arrested O'Hearn for making criminal threats in violation of Penal Code § 422.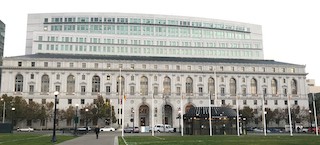 Court of Appeal 1st District San Francisco
O'Hearn was later charged in Marin County Superior Court with a violation of § 422 as a felony, which meant it was a strike. The complaint also alleged O'Hearn had been convicted of four prior felonies. O'Hearn was represented by the public defender, Robert Casper. O'Hearn then fired Casper and hired private counsel, Manton Selby, who was admitted to practice law in 1969, but had been disciplined by the State Bar seven times for various issues and suspended twice.
About a month later, O'Hearn pled guilty to making a criminal threat and admitted a probation violation in exchange for dismissal of two other probation violation claims.

Curiously, on the plea form entered with the plea, O'Hearn signed for not only himself, but for Selby as well. The plea included O'Hearn taking a Cruz waiver (under People v. Cruz (1988) 44 Cal.3d 1247) and sentencing was put over two months. At sentencing, a new private attorney appeared, Elizabeth Berg.

The probation officer's report, also known as the "pre-plea report," noted that O'Hearn had been diagnosed with bi-polar disorder and not taking his medication at the time of the instant offense."
The judge sentenced O'Hearn to three years of formal probation, with a stay away order from both victims and the housing complex, as well as other conditions. One of the conditions included an obligation to submit to drug and alcohol testing as requested by the probation department and to participate in "a program of treatment, counseling and therapy as directed by probation."
Less than a month later, O'Hearn moved to withdraw his plea based on duress in entering his plea. He then sought to use the services of the public defender, Robert Casper, again. The court asked Casper if such grounds were valid and Casper told the judge that he did not believe duress applied, commenting that this "appears to be, as we see sometimes, buyer's remorse."
O'Hearn then made a
Marsden
motion to relieve Casper and the judge denied the motion, but Casper later withdrew voluntarily.
About four months later, O'Hearn hired yet another attorney, Michael Coffino, who again filed a motion to withdraw the plea, arguing that Selby provided ineffective assistance of counsel in entering the plea with O'Hearn because Selby "barely met with the client," made a single court appearance before the guilty plea, failed to attend the sentencing hearing, at some point lost the file, to the detriment of subsequent counsel and O'Hearn. Selby never explained to O'Hearn what the elements of potential defenses were, did not inquire about his extensive mental health history, did not advise him that the charged crime was a strike, and did not raise with O'Hearn or the prosecution any alternative to pleading guilty as charged.

Coffino, in a declaration to the motion to withdraw the plea, stated that O'Hearn had been hospitalized at Atascadero and Napa State Hospitals for mental health problems. In 800 pages of medical files, it showed that O'Hearn had a history of schizophrenia and was currently suffering from "psychoses and schizoaffective disorder."
According to the motion, O'Hearn told Selby about his history of mental illness, but Selby did not pass along this information to the prosecutor or the judge. Coffino also, in the motion to withdraw, explained Selby's State Bar record of discipline.
The judge then ordered Selby to court to testify and conceded that he had lost the file at one point, but could not recall much of what he did on the case. When asked how long he had been practicing, he said "52 years," which was untrue. The judge then denied the motion to withdraw.
O'Hearn then appealed to the First Appellate District, which reversed the trial court, finding that Selby's failure to investigate the "abundant evidence" of mental illness in O'Hearn and failure to attempt to negotiate an alternative resolution was prejudicial to O'Hearn before he entered his plea.
We offer this case summary because it shows how much more demanding (in terms of patience) it can be to represent a defendant suffering from mental health issues, but that certain minimal standards must always be met.
The citation for the First Appellate District Court ruling discussed above is People v. Patrick Sean O'Hearn (1st App. Dist., 2021) 57 Cal. App. 5th 280, 270 Cal. Rptr. 3d 901.
For more information about ineffective assistance of counsel issues, please click on the following articles: