Immigration: Removal for First Degree Residential Burglary?
From the outset of this article, we offer a disclaimer that this is not an article about immigration law and our office is not an immigration law firm. We are criminal defense attorneys.
However, there inevitably are criminal defendants with immigration issues and knowing what convictions trigger deportation proceedings is important so that resolution of the case can seek to avoid such convictions, or at least attempt to do so with best efforts.
The Gist of this Article: Removal is proper for first degree residential burglary because burglary of a home is a crime involving moral turpitude since it invades the sanctity of the home and can invite a violent defense by the resident.

The following case exemplifies a cautionary tale to anyone who is not a U.S. citizen facing first degree residential burglary charges.
At age 12, Jose Diaz-Flores, a native of Mexico, entered the United States without permission. Twenty years later, he was in jail on domestic violence charges. An immigration officer who was conducting routine operations at that jail discovered that Diaz-Flores had entered the United States unlawfully.
Diaz-Flores was then taken into Immigration and Customs Enforcement (ICE) custody. The Department of Homeland Security (DHS) later learned that Diaz-Flores had been previously convicted of first-degree burglary in Oregon twice in the span of three years.
DHS then initiated removal proceedings, charging Diaz-Flores as removable as an alien present without admission or parole (8 U.S.C. § 1182(a)(6)(A)(i)) and as an alien who has been convicted of a crime involving moral turpitude (8 U.S.C. § 1182(a)(2)(A)(i)(I)). Diaz-Flores conceded the first charge of removability, but not the second. He sought cancellation of removal, asylum, withholding of removal, and protection under the Convention Against Torture ("CAT").
The Board of Immigration Appeals affirmed removal on both charges, concluding that first-degree burglary of a dwelling was a crime involving moral turpitude (CIMT).
Diaz-Flores then appealed to the United States Court of Appeals for the Ninth Circuit.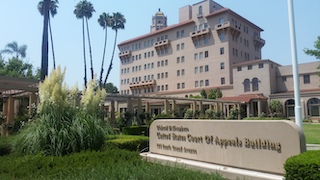 U.S. Ninth Circuit Court of Appeals Pasadena
The Ninth Circuit then reevaluated whether first degree residential burglary is a CIMT. It explained that it used the categorical and modified-categorical approaches as described in Taylor v. United States (1990) 495 U.S. 575, 600-02 and Descamps v. United States (2013) 570 U.S. 234, 257; Syed v. Barr (9th Cir., 2020) 969 F.3d 1012, 1017.

The Ninth Circuit then noted that under federal immigration law there is no clear definition of what is a CIMT, however, "[T]hrough our precedents, we have settled on an understanding that a crime involving moral turpitude is one that is 'vile, base or depraved' and 'violates accepted moral standards.'" Ramirez-Contreras v. Sessions (9th Cir., 2017) 858 F.3d 1298, 1304.
Yet because that definition offers an admittedly poor delineation of criminal elements, "we generally compare the state offense to crimes that have previously been found to involve moral turpitude." Mendoza v. Holder (9th Cir., 2010) 623 F.3d 1299, 1302.
At this point, we point out for the reader that under California law, any type of burglary is a crime of moral turpitude. People v. Muldrow (1988) 202 Cal.App.3d 636, 645.

However, federal law looked deeper at the intent element of burglary, specifically under Oregon law as to "enter or remain unlawfully in a building with intent to commit a crime therein" and held that federal law had historically only considered burglary a CIMT if the underlying crime that the burglar intended to commit was itself a crime of moral turpitude. Cuevas-Gaspar v. Gonzales (9th Cir., 2005) 430 F.3d 1013, 1020. Moreover, federal courts have held that commercial burglary, rather than residential burglary, is not categorically a CIMT. Hernandez-Cruz. v. Holder (9th Cir., 2011) 651 F.3d 1094, 1107.
Entering someone's residential dwelling, however, implicates safety and privacy concerns unlike in a commercial or non-residential space. Turning to Oregon's first degree burglary statute, the Ninth Circuit found that when defendant enters a dwelling to commit a crime therein, as Diaz-Flores did in his two crimes underlying each of his first degree residential burglary convictions, the crime would be a crime involving moral turpitude because such conduct violates the sanctity of the home, inviting a violent defensive response from the resident.

The Ninth Circuit therefore affirmed the BIA's ruling that Diaz-Flores was ineligible for cancellation of removal.
The citation for the U.S. District Court for the Ninth Circuit ruling discussed above is United States v. Jose Diaz-Flores (9th Cir., 2021) ____ F. 3d _____.
For more information about crimes involving moral turpitude, please click on the following articles: