If in Custody, Can I Get Credit on My Traffic Tickets?
Our office receives calls periodically by someone in custody or by relatives of someone in custody asking how the person in custody can "discharge" prior traffic tickets or otherwise apply custody credits to discharge prior outstanding traffic ticket fines or failures to appear on such tickets. Traffic tickets, it should be noted include violations of the Vehicle Code committed as a pedestrian, i.e. jaywalking, but do not include DUI or reckless driving as a misdemeanor.
In a Nutshell: To discharge or "get credit" of time served toward outstanding traffic ticket fines owed (subject to certain exceptions described below), the prisoner should file an ex parte application to dismiss such traffic citations under Vehicle Code § 41500. The citations should then be listed. This can be filed in the courtroom of the judge who sentenced the person to jail or prison and can also be done by an attorney representing the prisoner. The attorney or the person filing this should then file the signed order at the DMV so the driving history can be updated.
The caller is usually prompted to call because he or she is aware of the provisions of Vehicle Code § 41500, although he or she may not know the specific code section by number.
To be clear, "in custody" does not mean being on parole or post-release community supervision as sometimes is included in the definition of being "in custody" under other sections of the Penal Code. Such broad definitions do not apply to Vehicle Code § 41500's provisions. Instead, the person must actually be in county jail or state prison.
In addition, under § 41500(f), traffic tickets do not include felony offenses including, but not limited to, felony DUI (Vehicle Code § 23153), or even misdemeanor DUI (Vehicle Code § 23152) or misdemeanor reckless driving (Vehicle Code § 23103).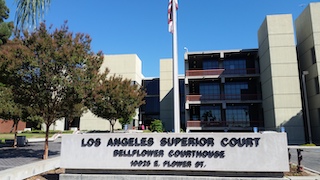 Bellflower Courthouse
Furthermore, the person in custody also cannot nullify a license suspension or license revocation arising from certain non-felony offenses that is otherwise required to be imposed. Vehicle Code § 41500(d). This may apply to a conviction for vandalism, for example, or underage possession of alcohol, or of course, DUI.

However, the person can remove holds on his license over failure to pay traffic ticket fines or failures to appear, with the goal that the person being released from custody can forthwith proceed with being gainfully employed and participate fully in helping his or her family by being able to drive.
To do this, defendant or counsel for defendant should file an ex parte application to dismiss non-felony traffic citations and/or warrants under Vehicle Code § 41500. The application should be filed in each court where such citations are pending. It should identify defendant by his name, date of birth, driver's license number, the citation numbers and the warrants, if any, by case number. The ex parte application should include an order for the judge to sign and return to defendant.
Alternatively, counsel may demand for trial under Penal Code § 1381, stating that he or she is under the custody of the California Department of Corrections (CDC), in the courthouse where any pending traffic ticket is venued, including any misdemeanor Vehicle Code violation other than DUI or reckless driving. The judge must then order defendant brought to court for trial or sentencing on the offense and rarely will because defendant is in custody and it is simply too expensive.
If the traffic ticket(s) and warrants are then dismissed, Vehicle Code § 41500 permits a person in jail or prison to notify the DMV under Vehicle Code § 40509(a) to remove such pending cases from his or her record because otherwise, the dismissal in court may be insufficient to prevent the suspension of one's driving privileges once released.

A good criminal defense attorney, after filing the ex parte application to dismiss non-felony traffic citations and warrants, or a 1381 demand and finding out the pending traffic tickets were dismissed, will file the 40509(a) request with the signed ex parte order with the DMV to ensure the client's freedom to again drive.
For more information about custody credit issues, please click on the following articles:
Contact us.