I Got Roofied – What Can I Do to Defend Myself in Court?
Years ago, there were stories circulating of people going to New York City bars, having a few drinks and waking up hours later in an abandoned building with bandages around their waist area. They would then go the hospital and be told they are missing a kidney. This was a cautionary tale to never go out alone and be careful not to leave your drink unattended if you were using the restroom.
Brief Synopsis: If you believe you were surreptitiously given a drug, i.e. a date rape drug (GHB or Rohypnol), get on the Internet ASAP and find a laboratory wherein you can give a blood or urine sample ASAP for later evaluation. Also call the police to ask if they can help preserve any security video footage from inside the bar.

Nowadays, a similar story is told with more credibility about the "date rape drug." The story is similar: someone, usually a female, goes to a bar and has a few drinks. Perhaps someone even buys her a few. She excuses herself to use the restroom or step outside for a cigarette, only to return, finish her drink and then start to feel sleepy. She may then leave with someone she barely knows or even does not know, only to wake up hours later with only a vague memory of what went on.
At some point, she (or he) realizes she (or he) has been raped.
If that person were to have their urine tested, it is likely that the blood would show the presence or Rohypnol (flunitrazepam), which is from the same family as valium. Such a urine test would need to be done within 72 hours.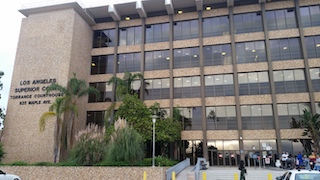 Torrance Courthouse
Rohypnol is about ten times as strong as Valium. It is a white or olive-green pill and sold in bubble-packing. The effects start twenty or thirty minutes after taking the pill, peak after about two hours and can last for up to twelve hours. People crush the pills, sprinkle it on marijuana, snort the powder or dissolve it in drinks. Memory of what happened afterwards is impaired.
Rohypnol is distinct from GHB, or gamma-hydroxybutyrate. GHB is also known as a "date rape" drug. Detection of GHB, however, is very difficult after even a few hours. After 24 hours, it is almost impossible to detect in one's urine.
Rohypnol's manufacturer has changed the drug to leave blue flecks that are visible to the eye. It is sold in Europe and Latin America, but it is illegal in the United States.
Flunitrazepam is a benzodiazepine used in some countries to treat severe insomnia. Its street names include roofies, "forget me pill," R2, Roches and Mexican valium.
If one is a "roofie" victim, we recommend one contact the police immediately. Police may be able to get store security videos from inside the bar or just outside that help identify the suspect.
One can also contact the nearest District Attorney office and inquire about Victim-Witness Assistance programs. The Los Angeles Sheriff's Department Victim Information & Notification Everyday (VINE) program provides automatic telephone notification to victims regarding release of inmates from the Los Angeles County jail system. One can call 1-877-VINE-4-LA to register for notification. Sadly, note, this system does not cover state prisons or jails in other counties.
If one allegedly committed a criminal act after being "roofied," i.e. DUI, hit and run or a sexual assault, the best thing to do is first and foremost write down everything one can remember about the evening at issue such as who was there and when. The more detail the better.
After one does this, one should contact an experienced criminal defense attorney who regularly appears in the courthouse at issue to handle your defense. It is unwise to wait until the arraignment to request the services of a public defender because cases like one being roofied, it is very important to preserve evidence as soon as possible before memories fade, witnesses move, and store security videos are taped over or deleted.
For more information about drug issues, please click on the following articles:
Contact us.