I Committed the Same Crime Several Times - Multiple Counts?
This is a common question our office hears, especially in theft offenses. The answer to this article's title question is "it matters."
The question refers to the Doctrine of Fragmentation, or even the
Kellett
principle involving claim splitting (
Kellett v Superior Court
(1966) 63 Cal.2d 822). The Doctrine of Fragmentation is a principle that is illustrated by a variety of different cases.
Summary in 50 Words or Less: There is no rule or law that definitively determines if three crimes committed in a short time leads to one case and one charge or three different cases. The answer depends upon the specific facts of the crimes, the similarity in victim(s), the type of crime and the location(s).

For example, the possession of two pistols on the same day gives rise to one, not two, charges of possessing a concealable firearm.
People v. Puppilo
(1929) 100 Cal.App. 559, 562-563, 20 P. 545. Similarly, receiving radios stolen from three different cars owned by three different people constitutes one crime of receiving stolen property under Penal Code section 496, not three crimes.
People v. Smith
(1945) 26 Cal.2d 854, 858-859, 161 P.2d 941. And where a robber takes from a waitress her tips, as well as money owned by the restaurant, he can only be convicted of one count of robbery, not two.
People v. Murquez
(2002) 78 Cal.App.4th 1302, 93 Cal.Rptr.2d 759.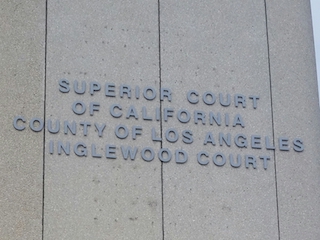 Inglewood Courthouse
This is not always logical. Where in one transaction a used car dealer fraudulently trades a 1949 Ford that he does not own for the victim's 1946 Ford and cash there is only one grand theft, not two. People v. Nor Woods (1951) 37 Cal.2d 584, 586, 233 P.2d 897. This makes logical sense insofar as there was one transaction, but it created thefts from two different people.
In
People v. Bailey
(1961) 55 Cal.2d 514, 518-519, 11 Cal.Rptr. 543, 360 P.2d 39, the one transaction rule seemed irrelevant. In
Bailey
, defendant received a series of welfare payments in sums less than $200 from July 1956 to December 1957. The California Supreme held that the defendant could be convicted of one count of grand theft instead of multiple counts of petty theft where the money was obtained under a single plan.
In
People v. Gardner
(1979) 90 Cal.App.3d 42, 48, 153 Cal.Rptr. 160, the Court of Appeal followed
Bailey
, and reversed three of the defendant's convictions of violating Penal Code section 487a (grand theft) where the defendant had had removed hogs carcasses during a single episode under one plan. Similarly, in
People v. Bowie
(1977) 72 Cal.App.3d 143, 140 Cal.Rptr. 49, the defendant sold an informant 11 blank checks at one time. The Court of Appeal reversed 10 of the defendant's 11 convictions of violating Penal Code 475, which prohibits the possession of blank checks with the intent to fill up the checks so that they can be passed to defraud another person. The court held that there was only one offense, not eleven.
Even if the defendant is charged with multiple counts of Penal Code section 475a for possessing completed checks with the intent to defraud, the result is the same.
People v. Carter
(1977) 75 Cal.App.3d 865,142 Cal.Rptr. 517.
Bowie
was later followed in a sex offense case,
People v. Municipal Court (Marandola)
(1979) 97 Cal.App. 3d 444, 447, 158 Cal.Rptr. 739, where the court of appeal held that instead of being charged with 15 counts of violating Penal Code § 311.2, a defendant who delivered seven obscene films to undercover officers on one day, and eight obscene films on another day, could only be charged with two counts of possessing obscene films. In
People v. Harris
(1977) 71 Cal.App.3d 959, 971,139 Cal.Rptr. 778, eight counts of possessing items with removed serial numbers were reversed.
The Doctrine of Fragmentation is not limited to crimes of possession and theft. When it comes to interfering with a peace officer in violation of Penal Code § 148, an act against two officer supports one count only.
People v. Jordan
(1971) 19 Cal.App.3d 362, 370-371, 97 Cal.Rptr. 570. "One who by his act interferes with the law enforcement activity of a 500-member police riot squad does not commit 500 offenses, separately chargeable." 19 Cal.App.3d at p. 371.
Likewise, in
People v. Garcia
(2003) 107 Cal.App.4th 1159, 32 Cal.Rptr.2d 694, the court held that a defendant who was charged with three counts of evading an officer in violation of Vehicle Code section 2800.2, because he engaged in a high-speed chase in which he was pursued by three police cars could only be convicted of one count.
In a DUI context, where a drunk driver kills one person and injures five others, he may not be charged with six counts of injuring persons by driving under the influence of alcohol under Vehicle Code section 23153 subd. (a), and six counts of injuring persons by driving with a blood alcohol level of .10% or more. Instead the defendant can only be charged with one count of Vehicle Code § 23153(a), and one count of § 23153(b), no matter how many persons are killed or injured.
Wilkoff v. Superior Court
(1985) 38 Cal.3d 345, 211 Cal.Rptr. 742, 696 P.2d 134.
For more information about the issues in this case, click on the following articles:
Do You Face Multiple Criminal Cases at the Same Time? Can the Cases Be Joined? Is It Permissible for a Prosecutor to Split up the Cases?
Multiple Convictions for Embezzlement (Grand Theft) From Employer Proper When Takings Distinguishable.
Contact us.