How Much Movement's Needed for Kidnapping to Commit Robbery?
In law school, most attorneys are taught that "asportation" is required to commit kidnapping. This legal jargon means that defendant must take control over another person and move that person some distance. Depending upon the facts of the case, the asportation requirement can be satisfied with very little movement and, consequently, defendant can be convicted of kidnapping when the movement is very slight.
How short of a distance is sufficient is always the question.

Brief Synopsis: Movement of a victim "three or four steps" from a lighted area to a dark area at night is not enough movement for defendant to be charged with kidnapping to commit robbery, the Second Appellate District ruled.

In the following summary of a recent reported decision filed January 6, 2020 by the Second Appellate District answers that question in the context of kidnapping for robbery in Lancaster.
Defendant Isaac Taylor was walking down a street at night in Lancaster and passed by a nail salon. Mr. Ho worked at the nail salon, but at the time, was just outside the nail salon smoking a cigarette. There was plenty of light outside the salon from the lights inside the nail salon.
Taylor walked past Mr. Ho and then circled back about thirty seconds later. Mr. Ho testified at trial that Taylor yelled at him, "Do you believe in Jesus?" two or three times. He then told Ho to look down, where Taylor was holding a gun pointed at Ho.
Taylor then told Ho to move a few steps into a nearby alley, apparently so that Ho would be in the shadows and no one could see him. Ho did so, later testifying at trial that he took "three or four steps backward, adding "a very short distance."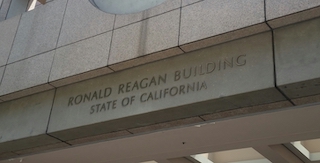 CA 2nd Appellate District Los Angeles
When Ho stopped, he was about a foot into the nearby alley. Taylor then demanded Ho's wallet, which Ho handed Taylor. Taylor took the wallet and told Ho to walk back into the nail salon. Ho slowly walked back into the nail salon.

The jury convicted Taylor of second-degree robbery (Penal Code § 211) and kidnapping to commit robbery (Penal Code § 209(b)(1)). It also found that Taylor used a firearm in committing the robbery and kidnapping. At sentencing, Taylor admitted a prior serious felony conviction.
Judge Shannon Knight (who our office has appeared before and greatly respects) sentenced Taylor to 29 years to life for kidnapping (seven years, doubled due to the prior strike, plus a five-year serious felony enhancement under Penal Code § 667(a)(1) and a ten-year firearm enhancement under Penal Code § 12022.53(b), as well as 25 years for robbery (five years, doubled for the prior strike, plus a five-year prior serious felony enhancement under § 667(a)(1) and a ten-year firearm enhancement under § 12022.53(b). The judge stayed the robbery sentence under Penal Code § 654.
Taylor then appealed the kidnapping for robbery conviction. He argued that he did not commit kidnapping because the movement of Mr. Ho was merely incidental to the robbery and did not increase Ho's risk of harm beyond that necessarily present in the robbery.
The Second Appellate District Court of Appeal in Los Angeles agreed with Taylor (People v. Isaac William Taylor (2020 DJDAR 60).
The Second Appellate District came to this conclusion after first noting that no minimum distance is required if the movement is substantial. People v. Dominguez (2006) 39 Cal.4th 1141, 1152.

The court then traced the historical development of the law of kidnapping, explaining how kidnapping first required the movement of the victim across county or state lines (California's 1872 law on this codified this standard), but in the 1950's the law changed to allow a conviction for kidnapping if there was any forceful movement of a victim any distance, "no matter how short or for what purpose. See People v. Chessman (1951) 38 Cal.2d 166.
The elimination of such a movement requirement threatened to eliminate the distinction between kidnapping and robbery or rape. Overcharging was then common.

Then the Daniels decision was issued. People v. Daniels (1969) 71 Cal.2d 1119. It distinguished kidnapping for robbery from simple robbery by establishing the two-part test first noted in the appeal filed by Taylor.

Indeed, in reviewing the movement of Mr. Ho in this case, the court found his movement of four steps and twelve inches into the shadows was merely incidental to the robbery and thus, not kidnapping for robbery.
While this may have been a great win for Taylor, the twenty-five-year portion of his sentence remained. Nonetheless, he could take some satisfaction is reducing his prison time to twenty-five years.
The citation for the Second Appellate District Court ruling discussed above is People v. Isaac William Taylor (2d App. Dist., 2019) 43 Cal.App.5th 1102.

For more information about kidnapping, please click on the following articles: