How Long is Too Long for Past Recollection Recorded?
The confrontation clauses of both the United States and California Constitutions guarantee criminal defendants the right to confront the witnesses against them. This right is expressed in many ways, one of which is through the evidentiary rules excluding hearsay from admission as evidence.

However, the right of confrontation is not absolute. Chambers v. Mississippi (1973) 410 U.S. 284. "An exception exists when a witness is unavailable and, at a previous court proceeding against the same defendant, has given testimony that was subject to cross-examination . . . Under federal constitutional law, such testimony is admissible later if the prosecution shows it made a 'good faith effort' to obtain the presence of the witness at trial."
Summary in 50 Words or Less: Six years was too long for a prior recorded recollection to be introduced into evidence as being reliable when the witness has no independent knowledge of the matters in the earlier report, but in the following case, the admission of this earlier recollection was considered harmless error due to other trustworthy evidence admitted from the same witness.

California law allows introduction of a witness' prior recorded testimony if the prosecution used "reasonable diligence (often referred to as due diligence) in its unsuccessful efforts to locate the missing witness." People v. Cromer (2001) 24 Cal.4th 889, 892. The burden is on the proponent to show unavailability and due diligence. People v. Cummings (1993) 4 Cal.4th 1233, 1296.
It has been said that "diligence" connotes persevering application, untiring efforts in good earnest efforts of a substantial character. The totality of the efforts of the proponent to achieve presence of the witness must be considered by the court. People v. Linder (1971) 5 Cal.3d 342, 346-347.
Sometimes, however, a witness is available, but his or her memory has faded so much that he or she is functionally unavailable to testify about past events. When this happens, a party may seek to introduce that witness' past recollection of events that were recorded.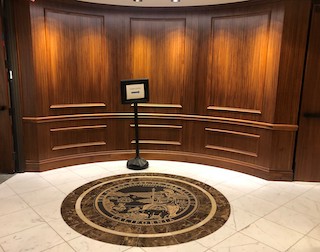 Fourth Appellate District Court of Appeal Div 1 San Diego
Black's Law Dictionary describes a past recollection recorded as a memorandum or record concerning a matter about which a witness once had knowledge, but now has insufficient recollection to enable him to testify fully and accurately, shown to have been made or adopted by the witness to reflect that knowledge correctly, is not excluded by the hearsay rule. If admitted, the memorandum or record may be read into evidence, but may not itself be received as an exhibit unless offered by an adverse party.
California Evidence Code § 1237 generally echoes what Black's states.
The memorandum or record is considered reliable by a judge because it was prepared under trustworthy circumstances and contemporaneously by someone.

Under the "past recollection recorded doctrine," the written report is properly admissible into evidence (it is not excluded by the hearsay rule) if the witness has testified that he or she had no independent recollection of the matters contained therein.
But how far back in time may the prosecution, for example, "reach back in time" to introduce a past recollection recorded and still have the evidence be admissible as a hearsay exception under Evidence Code § 1237?
This question was posed in a first-degree murder trial arising in San Diego County, wherein Marlin Royal was convicted and later appealed his conviction to the California Court of Appeal, Fourth Appellate District in San Diego.
Mr. Royal appealed on several grounds, but this article will only focus on the whether the Fourth Appellate District Court found the trial court judge committed error by admitting a 2013 Nevada police report concerning the 2007 alleged murder. In that report, there were statements made by his former girlfriend about the 2007 events and the prosecution introduced such statements at trial.
The defense argued that the past recollection recorded, to be admissible, should be of a "fresh" memory, and therefore of stronger foundation and sufficiently reliable to be excused from exclusion under the hearsay rule.

The Fourth Appellate District then evaluated the 2013 statement and refused to adopt any bright-line rule about how many years is too long following an incident to allow introduction of a past recollection recorded. Instead, it evaluated the statement in its totality and found insufficient evidence that that the incident and facts were still "fresh" in the declarant's mind when the statements were recorded in 2013. However, the trial court found other testimony from the same witness to be sufficiently trustworthy so that the trial court's admission of the 2013 statement was harmless error.
We present this article to show how a judge can introduce a past recollection recorded from even years after an event, as long as the past recollection recorded contains some evidence that the statement is still "fresh" in the declarant's mind and therefore has enough foundation to be reliable and then, admissible under Evidence Code § 1237 as an exception to the hearsay rule.
The citation for the Fourth Appellate District Court ruling discussed above is People v. Marlin Royal (4th App. Dist., 2019) 43 Cal.App.5th 121.

For more information about evidentiary issues, please click on the following articles: