How and When Does One Seek a Continuance of a Hearing?
You are not ready for an upcoming hearing? You need more time to prepare? You want to hire a private attorney? Your important witness is unavailable? You are sick? Your attorney is sick? Is there just too much adverse publicity right now?
In other words, you need the judge to delay the arraignment, the preliminary hearing, or even trial? How does one do this? When must one do it? How much of a continuance can the judge allow?
Summary in 50 Words or Less: A written motion to continue trial under Penal Code § 1050 is generally the best way to request a continuance of a hearing or a trial due to an unforeseen circumstance such as witness unavailaibilty issues, emergencies or other scheduling conflicts if applicable. It is best to hand deliver or fax it to the courtroom clerk and the prosecutor's office to ensure its receipt.

Generally speaking, when counsel or a party realizes that more time is needed for some reason, that attorney or the party should bring this to the judge's attention "at the earliest possible time." Penal Code § 1050(a). The motion (a written request) should be in writing and must be served with supporting declarations, on the other parties and filed at least two days prior to the hearing. Penal Code § 1050(b). This allows the other party to notify witnesses that might be coming to court (i.e. police officers or percipient witnesses) of the delay sought. Failure to comply with the two-day notice requirement can subject the violating party to a possible fine of up to $1,000 and a disciplinary report to the State Bar. Penal Code §§ 1050(c), 1050.5.

A good practice pointer is to try to deliver the written motion to the court clerk for the department at issue as soon as possible, even if by facsimile or e-mail, so that the clerk and the judge are aware of this request and can consider the effect this will have, if granted, on other matters on calendar.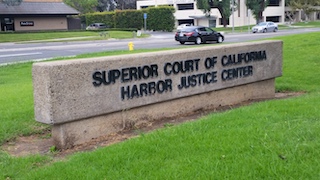 Newport Beach Courthouse
Depending upon the nature of the reason needed for the continuance, the judge can allow varying amounts of time. This article will only cover a request to continue a hearing to retain counsel.
When defendant is seeking time to secure counsel (a constitutional right under the Sixth Amendment), the judge is allowed to grant "reasonable time" under Penal Code § 859 for defendant to retain counsel at the arraignment or under Penal Code § 860 at the preliminary hearing (for a felony case).
People v. Courts (
1985) 37 Cal.3d 784, 789, 210 Cal.Rptr. 193;
People v. Byoune
(1966) 65 Cal.2d 345, 54 Cal.Rptr. 749.
"Reasonable time" is not defined for a delay at the arraignment stage, but two weeks to even 30 days is commonly granted. At the preliminary hearing, the hearing must be postponed "for not less than two nor more than five days." Penal Code § 860.
In requesting time to hire counsel, defendant should be aware that a judge may inquire into defendant's financial ability to do so.
People v. Lewis
(1971) 19 Cal.App.3d 1019, 1024, 97 Cal.Rptr. 419 (a judge can set a hearing on defendant's ability to pay a fine). This is not illegal, although one may be shocked to have a judge require defendant to submit a financial statement to the court. Penal Code § 987(c); Gov't Code § 27707 (court can require defendant to file financial statement under penalty of perjury to determine whether defendant "is financially able to employ counsel and qualifies for the services of a public defender").
Our interpretation of these provisions are to give the court an ability to prevent delays in the proceedings by a defendant really hoping to delay proceedings for an ulterior purpose, i.e. for a witness to be intimidated or hidden, for evidence to be destroyed, for an investigator to continue working, and not truly to hire counsel.
Under Penal Code § 987(c), this financial statement is inadmissible in any criminal proceeding except one based on perjury for false information in the form itself. The prosecutor may not receive a copy of this statement unless investigating perjury.
It is worth noting that when a judge has given defendant a reasonable period of time to secure counsel and defendant does not make a good faith effort to obtain an attorney, the judge is entitled to deny defendant's motion for a further continuance to obtain counsel.
Byoune, supra
, at 346.
For more information about speedy trial issues, please click on the following articles:
Contact us.