Hollywood, Male Prostitute Proposes to Female Cop Decoy
Most prosecutors and judges treat first-time prostitution cases with empathy, if not outright sympathy. They understand people have lapses of judgment. However, they also want to make sure the defendant learns from the mistake, so a plea bargain involving diversion is quite common.
Distilled Down: Hollywood arrest off Western Avenue and Santa Monica Boulevard, client poses as male prostitute to female police decoy, case dismissed, no diversion.

Diversion is a process whereby a defendant "diverts" from the normal path toward trial and is given an opportunity to perform community service (or community labor or Cal-Trans service), take a class, stay out of trouble with the law and maybe even write an essay for the judge. When the defendant does such things, the judge will reciprocate by dismissing the case.
In the case of our client, age 23, being charged with violating Penal Code § 647(b) seemed a big mistake. Indeed, he had advertised himself as available on Backpage.com, but he did so simply to meet a female, not to get paid to have sex with a female.
Our client not only met a female, it was a female vice cop, posing as an interested female looking for a sexual relationship. The decoy police officer responded to our client's advertisement on the website, which is recognized by prosecutors as a common place for those soliciting sexual services for money (prostitution).
Our client then agreed to meet the female at a bar near the corner of Western Avenue and Santa Monica Boulevard in Hollywood. When the two met, she immediately asked him if he was interested in having sex with her. Startled, yet somewhat amused, he responded nervously, "well, yes, you are kind of cute." She asked him how much he would charge her "for everything." He joked, "aw, I don't know. $50?"
He was immediately arrested. The decoy confided to him while he was being arrested, "you ought to fight this."
When the client retained our office, Greg Hill noted that for someone who is not familiar with street terms used in prostitution, "everything" may be ambiguous and thus a defense to establishing an agreement to exchange sexual acts for "consideration" (money or other compensation). The audio tape of the conversation would also show the joking nature of the conversation, rather than a serious intent.
At the arraignment, our client was offered diversion in the form of the $700 Prostitution Diversion Program (PDP) and AIDS testing in exchange for a dismissal, as this was a first-time offense for our client.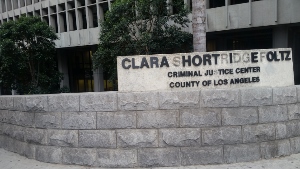 Clara Shortridge Foltz Courthouse (CCB)
Our client and Greg Hill decided to pass on the offer, which proved wise. The case was transferred from the Bauchet Street courthouse to the Clara Shortridge Foltz Courthouse, Department 40. Once there, the new City Attorney offered our client a surprising deal: stay out of trouble for a year and no new Backpage.com listings. If our client would do so, the case would be dismissed. The prosecutor commented, "well, if he really is not a male prostitute, he will prove it by staying out of trouble for a year."
Our client happily accepted this deal. He avoided having to pay $700 for a class.
For more information about sex offenses and prostitution in specific, click on the following articles:
Watch our video about sex offenses by clicking
here
.
Contact us.