Hermosa Beach, Public Intoxication, Plea to Infraction
Our client, age 24, went to a party in Hermosa Beach hosted by some of her co-workers. The group had just completed a big project and had worked hard for several weeks. They wanted to unwind and celebrate, having reached the finish line. They had a new sense of camaraderie.
Synopsis: Hermosa Beach, client arrested for public intoxication (Penal Code § 647(f)) after reportedly talking loudly on her cell phone late at night; case resolved for infraction of disturbing the peace.

The party lasted until well after midnight. A great deal of alcohol was consumed. Our client stepped outside to make a phone call and was heard and seen walking up and down the street, talking loudly and crying during the conversation. Neighbors complained to police that our client was hysterical and causing a commotion.
Before police arrived at the location, our client attempted to return to the party, but was locked out of the home, not intentionally, but more likely just because the door was locked. In response, she banged on the home's front door and yelled loudly to be allowed in. She was quite drunk
.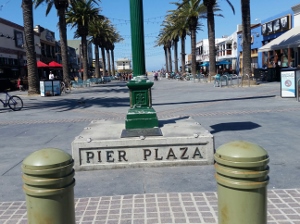 Downtown Hermosa Beach
Police found her and arrested her for public intoxication (Penal Code § 647(f)), a misdemeanor. She was taken to the police station, booked and released the following morning.
She then called up Greg Hill & Associates. She was upset and concerned about the charge, as she had a prior DUI conviction and anticipated the prosecutor would enhance the punishment for the prior alcohol-related incident. Greg listened to the client's summary of events and then wrote the Hermosa Beach City Prosecutor a letter for a copy of the police report. He wrote a similar request to the Hermosa Beach Police Department.
Greg also recommended that the client attend ten AA (Alcoholics Anonymous) meetings before the arraignment and give Greg the sign-in sheet from the meetings, documenting this.
At the arraignment, Greg discussed the police report with the Hermosa Beach City Prosecutor. He also showed the prosecutor the ten AA's that our client had attended. Greg pointed out that for one to be convicted of public intoxication, one must, according to section 647(f), be incapable of caring for oneself due to being intoxicated or constitute such a disturbance as to obstruct a public thoroughfare. Here, the conduct described met neither standard. Knocking loudly on a door or talking loudly on a cell phone is not being so drunk that one cannot care for herself.
Our client, after all, was not, for example, passed out on the beach with her own vomit on herself or having lost her bowels and still wearing such clothes. She was walking around, talking on a cell phone and then loudly knocking on a door.
She was also not obstructing a public thoroughfare, such as a road or sidewalk. She was not even found on public property. No one could have passed her anyways because the door to the house was locked.
The Hermosa Beach City Prosecutor agreed and promised to amend the complaint to allege an infraction violation of Penal Code § 415(2) ("Disturbing the Peace by Making a Loud Noise) if our client attended a total of 30 AA meetings.
Our client quickly did so and the case was reduced to an infraction with a $100 fine. Our client was happy to avoid a misdemeanor conviction and the informal probation that follows.
For more information about the issues in this case summary, click on the following articles:
Contact us.