Hermosa Beach, Misdemeanor PC 372, Plea to Infraction
It was 2:45 a.m. on a Friday night in the summer. Our client was walking back home to his apartment from the downtown Hermosa Beach bars, where he had been drinking with friends, when he realized he would not make it home to his bathroom unless he ran.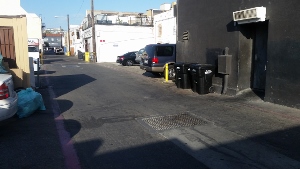 Hermosa Beach Alleyway
He decided against running. He decided to urinate in the bushes of a house about three blocks away. As luck would have it, police observed him and shined a large white light at him while he had his pants unzipped.
Our client was quite surprised that a police officer was watching him so closely and had the audacity to shine a light at him while he was trying to preserve his privacy. On the other hand, he also fully understood that he was not supposed to urinate on someone's private property.
The officer approached the client as he quickly buttoned up his pants. The officer asked him, somewhat rhetorically, if he knew why he was about to get a ticket. Our client sheepishly responded "because I was peeing where I shouldn't have." The officer agreed and said nothing further except to ask for the client's driver's license or ID.
Summary: Client arrested for urinating in public outside Hermosa Beach bar, charged with misdemeanor public nuisance, case resolved for infraction disturbing the peace.

Our client was then handed a ticket and asked to sign a promise to appear in the Torrance Superior Court in about two months. Had our client refused to sign the promise to appear, the officer would have had to arrest the client, take him to the police station and then hold him until he could be arraigned in court within 48 hours (as required by law).
The client took the ticket and walked home, somewhat confused and worried that he might be charged with a sex offense that required registration for life as a sex offender.
The client then appeared in court and saw that he was charged with a violation of Penal Code § 372 ("Public Urination"), a misdemeanor. He then contacted our office.
The client spoke with Greg. Greg listened to the facts of the case and told him that it did not sound like he would be charged with anything that could require registration as a sex offender for life under Penal Code § 290. Greg also discussed the general way such offenses are handled in court and what he intended to do.
Our client had no prior record of any sort and was a stock broker. He had an undergraduate degree from U.S.C. He was concerned about his stockbroker license being in jeopardy with a criminal conviction.
Our office then requested the police report from the Hermosa Beach Police Department and the Hermosa Beach City Prosecutor. The report contained no pictures and no audio recording.

Our office then appeared at the arraignment and explained our client's employment concerns. The Hermosa Beach City Prosecutor, a very fair man, listened and agreed to resolve the case for disturbing the peace (Penal Code § 415) as an infraction, while dismissing the misdemeanor charge of public urination. (Since the date of this summary, the City of Hermosa Beach has eliminated the Office of the Hermosa Beach City Prosecutor. Nowadays, public urination tickets in Hermosa Beach are prosecuted by the Redondo Beach City Prosecutor's Office.)"
Our client was happy he only had to pay a fine of $100, plus penalties and assessments making the total to be paid $504. Upon paying the fine, his record would appear clean again, as the only count was dismissed by the prosecutor.
For more information about the issues in this public urination case, click on the following articles:
AB 2124 – The New Pilot Program for Diversion of First-Time, Low Level Offenders in Los Angeles County Only
Contact us.