Hermosa Beach, Female Public Urination, Infraction
Our client, age 28, was a UC school graduate. She was successful, working as a recruiter for a major Fortune 500 company. Her friends asked her to join them on a "girls' night out" in Hermosa Beach and she gladly agreed.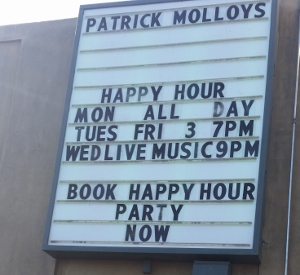 The group had visited several bars, having one drink at each place before settling in at Patrick Molloy's located off Pier Plaza. They stayed there until the bar and restaurant closed at about 2:00 a.m. The group was walking back to get Ubers home when our client realized she needed to pee.
Summary: Client, a female age 28, ticketed for misdemeanor public nuisance (Penal Code § 372) for urinating in public in Hermosa Beach behind a parked car at about 2:00 a.m. Case resolved for an infraction for disturbing the peace (Penal Code § 415(2)) and the misdemeanor was dismissed.

She was with her friends as they crossed 13th Street just north of Pier Avenue. Our client decided to squat behind a parked car, but her attempt to conceal herself and have a small amount of privacy was not successful.
A uniformed Hermosa Beach Police Officer observed our client "squatting and a steady stream of liquid exiting from her midsection," as the report stated. The officer patiently waited for our client to finish her business and then asked her for her driver's license. He then copied down her name and address and handed her a ticket for a misdemeanor violation of Penal Code § 372, "public nuisance." The client was extremely embarrassed and worried that this ticket could result in her employer asking her to explain herself.
Once the client got home and looked at the ticket more closely, she read how a conviction for violating Penal Code § 372 can be punished by up to six months in county jail. Horrified, she called a few attorneys, eventually contacting Greg Hill & Associates.
Greg Hill and she discussed the case facts and where she was ticketed. Greg explained how such matters were handled in the Torrance Superior Court and recommended that the client attend a few Alcoholics Anonymous (AA) meetings before the date set for the arraignment, which Greg explained she would not need to attend if she retained counsel.
The client then explained her employment concerns and Greg explained how the Redondo Beach City Prosecutors office often would offer to reduce the charge to an infraction as a violation of Penal Code § 415 ("disturbing the peace") if the client made a $550 contribution to the Hermosa Beach Nuisance Abatement Fund at the Hermosa Beach City Hall.
Greg then appeared at the arraignment and briefly discussed the case facts with the Redondo Beach City Prosecutor. The prosecutor expressed shock that a woman would urinate in public, but noted that the client had no prior criminal history.
Greg also explained how the client had attended ten AA meetings and showed the prosecutor documentation of her attendance at ten AA meetings. Greg also described the client and how she was a full-time employee and a UC school graduate.
The prosecutor kindly agreed to allow our client the opportunity to "earn" an infraction for a violation of Penal Code § 415 by making a $550 contribution to the Hermosa Beach Nuisance Abatement Fund. The prosecutor omitted the usual $10 court fee, plus penalties and assessments (a total of $150) because the client attended ten AA meetings.
Greg then paid the $550 donation for the client and appeared in court four weeks later, showing the receipt to the prosecutor.
The prosecutor then amended the complaint to allege a count two as an infraction level violation of Penal Code § 415. The prosecutor also asked the judge to dismiss count one, the alleged violation of Penal Code § 372.
On behalf of the client, Greg then pled no contest to the infraction level violation of Penal Code § 415. This resolution was better than having a misdemeanor conviction because with a misdemeanor, probation is required if the sentence is not custody time. Moreover, an infraction is the same offense level as a parking ticket.
The client was very happy with this resolution.
For more information about public urination issues, please click on the following articles:
Contact us.