Hacienda Heights, Possession of Pot for Sales, Probation
Our client was on formal probation following a conviction for possession of marijuana for sales (Health and Safety Code § 11379). He was found with approximately 40 kilograms of marijuana at his home. Greg Hill & Associates represented him on the underlying case, which included unlawful discharging a firearm, unlawful possession of an unregistered firearm, resisting arrest and possession of concentrated cannabis for sales.
The plea bargain, reached at the Pomona Superior Court after months of plea bargaining, was seen as something of a miracle due to the quantity of marijuana seized, the gun charges and resisting arrest. The probation officer was extremely surprised that our client received probation.
Summary: Hacienda Heights, possession of marijuana for sales, probation violation out of Pomona Courthouse, no additional sentence, client simply reinstated on probation.

As part of the terms of his felony probation, our client agreed to perform 180 days of tree farm and not associate with those who used or possessed marijuana. This was a staggering amount of tree farm to promise to perform, but it helped our client avoid prison.
Approximately six months after starting his probation, police officers pulled over our client's female friend, who herself was on probation. In her trunk, they found twenty pounds of marijuana and close to $23,000 in cash. The girlfriend quickly explained that she had just made a donation to a medical marijuana collective and was on her way home. Officers asked her if they could search her apartment and she agreed.
When officers entered the apartment of the female friend of our client, they found our client laying on the bed, napping, with $2,440 in cash in his pocket. A large ziploc bag of marijuana was on the floor. In the other room, another male was found with $9,614 in cash in his pocket. The apartment also had scales and food sealers in the kitchen. It certainly seemed as if our client was associating with those who used or possessed marijuana (this was pre-Prop 64, legalizing adult use of marijuana).
Officers claimed that our client denied he was on probation when he was asked and upon finding he was on probation, they arrested him for a probation violation.
Greg Hill & Associates received a phone call from our client that evening explaining his need for our help again. We were in court the very next day for his arraignment at the LAX court for possession for sales. The district attorney there, however, decided to drop the charges in lieu of the probation violation case which would be filed in Pomona.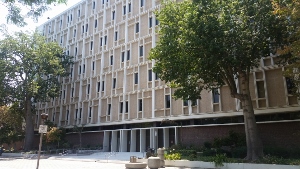 Pomona Superior Courthouse


Greg Hill quickly put together a brief under Penal Code § 1275 for setting of bail, as bail had been denied altogether (which is within the court's discretion in a probation violation matter). The judge there patiently read the brief, but affirmed the denial of bail. This upset the client tremendously, as he had a big meeting for later that day and he felt his rights were being violated.
A further hearing was set in three days to set a hearing on the probation violation. Sensing that the judge in Pomona was not interested in imposing the two-year prison sentence, the district attorney offered, after several hours of negotiating, Greg Hill asked the court for an indicated if our client were to plead in the open. Amazingly, the court indicated that it would be in favor or re-imposing probation on the same terms and with no additional punishment.
This was a pretty remarkable offer, given that our client was not exactly found with just a dime bag of marijuana in his pocket while stopped for a speeding ticket.
After some further negotiating lasting all day, our client accepted the deal and was released upon the same terms of probation as before. He realized he was a very lucky man, as he essentially was not even punished for his violation of probation.
For more information about the issues in this case summary, click on the following articles:
Contact us.