Fullerton Public Urination, Two Clients, Civil Compromise
Our clients, both 24, were part of a group of five that went out to the downtown Fullerton area on a warm July evening. The group was celebrating the birthday of one of the five. There were three females and two males. No one was dating each other. They were just good friends.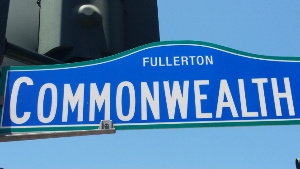 Commonwealth Avenue in Downtown Fullerton
It was a good reason to enjoy oneself with friends and our clients certainly did, even planning to take an Uber home instead of driving, as they anticipated drinking plenty.

In a Nutshell: Our female client and our male client, both 24, were each ticketed for public urination in Fullerton. Our office resolved each case through a civil compromise and dismissal in the interest of justice after each client made a $300 "donation" to the Fullerton Victim Restitution Fund.

The evening was coming to an end and the group was walking to one of main streets that the Uber driver asked them to stand on so he could find them.
One of the group, our client, realized she needed to find a restroom and tried getting into one of the bars close by. However, it was 2:10 a.m. and the bars would not let her in. She became frantic and finally resigned herself to needing to find a dark area where it would be hard to see her.
She found such a spot in an alley way and one of the boys in the group decided to basically guard her from afar (to still respect her privacy), just in case a homeless person or someone emerged from the shadows. As he was doing so, he decided he would urinate, too.
Two uniformed Fullerton Police Officers were walking by and immediately saw both of them in act. Our female client finished urinating, as did our male client. Both then sheepishly walked toward the uniformed officers, who issued each one a ticket for public urination, a violation of Fullerton Municipal Code § 7.110.010. The ticket was signed by each to promise to appear in the Fullerton Superior Court a few weeks later.
The clients took the tickets, not realizing what the tickets said. Our clients were instead more concerned about finding their other three friends and getting their Uber ride home.
Once home, they looked at the ticket closer and realized it was marked a misdemeanor. Both our clients had steady jobs with large companies and became anxious that the conviction would cause them to lose their jobs.
The two called Greg Hill & Associates and spoke with Greg about what happened. Greg explained how such tickets are commonly handled in the Fullerton Superior Court. He explained how the ticket could be reduced to an infraction with a fine of just under $300 or dismissed as a civil compromise (under Penal Code §§ 1377 and 1378) if one makes a $300 contribution to the Fullerton Victim Restitution Fund.
The clients agreed that dismissal, if available, was preferable even though it might cost a few dollars more.
Greg then appeared in the Fullerton Superior Court on the date of the arraignment and discussed the case facts with the Fullerton City Attorney. Greg explained how each had no prior criminal history and each were employed in full-time jobs.
Greg then proposed that each client make a $300 donation to the Fullerton Victim Restitution Fund and that this contribution be deemed a civil compromise of the case. The Fullerton City Attorney agreed.
Greg then walked down the hallway and up to the second floor of the courthouse where he made a $300 contribution on behalf of each client. He then brought the receipts back to the courtroom and showed each one to the Fullerton City Attorney.
The case was then called by the judge and the Fullerton City Attorney explained that each defendant had effected a civil compromise of their respective matter. The Fullerton City Attorney then asked that the judge dismiss each case. The judge granted the request and dismissed each case.
Both clients were extremely pleased with this outcome as they were just starting their careers and did not want to have to restart work at a new company.
For more information about public urination issues, please click on the following articles:
Contact us.