Fullerton Public Urination, Female Client, Case Dismissed
Our client, age 22, was a full-time student at Cal State Long Beach, earning a 3.8 G.P.A. She was studying to one day become a registered nurse. Some friends of hers from school suggested they get together to have dinner and maybe a few drinks. She jumped at the chance to socialize, relax after all her hard studying and enjoy a margarita or two.
In a Nutshell: Client, a female age 22 and studying to become a nurse, is ticketed in downtown Fullerton for public urination. Client views such a conviction for a misdemeanor as disqualifying her from becoming a nurse. Our office has case dismissed pursuant to a civil compromise.

Unfortunately, she enjoyed herself a bit too much and drank more than her fair share. As she was walking out of the bar at 2:00 a.m. when it closed, she felt the urge to urinate. She turned around to go back to the bar, but the doorman told her she could not come in to use the restroom.
She knew she could not make it to her car without urinating, so she did what she felt she had no alternative but to do: she found an alley and ducked behind a dumpster.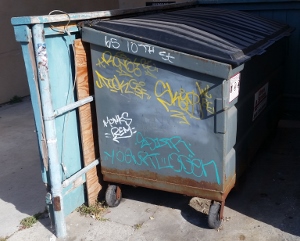 She was trying to avoid anyone seeing her, but an alert Fullerton Police Officer spotted her and walked over in her direction. Our client was just zipping up her pants as the officer said to her, "excuse me, ma'am." The officer said he saw her squatting, which our client thought was impossible because she was behind a dumpster, but had good enough judgment not to argue this with the officer.
The officer handed her a ticket stating that she was being cited for a violation of Fullerton Municipal Code § 7.110.010(a). She was asked to sign the ticket as a promise to appear in the Fullerton Superior Court. Our client was embarrassed and signed the ticket, which the officer then handed her and left.
When our client got home and had time to reflect on the prior evening, she searched the Internet to find out what section 7.110.010(a) said. In doing this, she learned it was a misdemeanor and that a judge could sentence her up to six months in county jail and fine her up to $500, plus penalties and assessments. She read in other places of the Internet, including on some law firm websites, that the punishment for public urination could include being ordered to register as a sex offender for life, which is entirely wrong.
In doing her research herself, she called Greg Hill & Associates and spoke to Greg Hill. She described what had happened to her and Greg explained his experience in handling such cases at the Fullerton Superior Court.
The client then retained Greg Hill & Associates. She sent Greg her resume and Cal State Long Beach transcript showing her grades.

A few weeks later, Greg appeared on the client's behalf in the Fullerton Superior Court for the arraignment. The client stayed in class. Greg discussed the police report with the Fullerton City Attorney, who noted that the client had no prior criminal history.
Greg showed the Fullerton City Attorney the client's resume and college transcript. In response, the Fullerton City Prosecutor told Greg that if he made a $300 contribution to the Fullerton Victim Witness Emergency Fund, he would consider the case civilly compromised and ask the judge to dismiss the case under Penal Code § 1385 (in the interest of justice).

Greg then made the contribution and returned to the courtroom to show the Fullerton City Attorney the receipt documenting the contribution. The case was then called by the commissioner hearing such cases. The Fullerton City Attorney advised the judge that a civil compromise had been reached to resolve the matter under Penal Code §§ 1377 and 1378 and that he requested that the court dismiss the case under Penal Code § 1385.
The commissioner granted the request, finding that a civil compromise had been reached in the case and dismissing the complaint under § 1385.
Greg advised the client of this, who was very happy with the result.
For more information about public urination issues, please click on the following articles:
Contact us.