Fullerton Municipal Code 7.110.010 Public Urination Dismiss
Our client, age 27, was in town to visit friends after returning to the United States after several years teaching English abroad in Asia. His friends suggested they go out to a few bars in Fullerton's downtown area.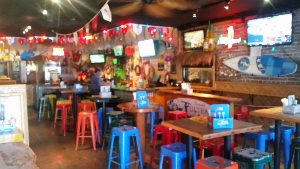 Fullerton Bar
It was a reunion of sorts that seemed to mandate excessive drinking and doing things unusual to match the longevity of the friendship.
Summary in 50 Words or Less: Client from Kentucky ticketed in downtown Fullerton for public urination (Fullerton Municipal Code § 7.110.010). Case resolved in a civil compromise wherein our client made $300 donation to the Fullerton Victim Restitution Fund and the case was dismissed.

As our client was waiting with his friends in line outside a certain bar to get in. They were almost to the front of the line when our client decided he needed to urinate and could not wait any longer. So, he stepped out of line and walked over to the side of the building, he presumed out of sight of everyone.
He was not quite completely out of sight, unfortunately, as a City of Fullerton police officer saw him urinating on the wall.
The officer allowed our client to finish emptying his bladder before approaching him and handing him the ticket. Our client apologized and signed the ticket with a promise to appear in court in Fullerton about two months later. The client was happy not to be arrested and stuffed the ticket in his pocket, not realizing the gravity of what had happened. Instead, he was more concerned with making it into the bar with his friends.
Once our client returned to Kentucky, he took a closer look at the ticket and realized he had been cited for a misdemeanor and that he had promised to be in the Fullerton Superior Court 2,500 miles west from him in two months. He had never even received a ticket before. He thought he'd have to pay a small fine that he could mail in and that would be the end of it.
He then went on the Internet and read how a conviction for public urination, in rare cases, could subject one to a lifetime obligation to register as a sex offender. He was horrified. He also read that six months in county jail could be imposed in a misdemeanor such as his case.
He thought there must be a way to handle this without being convicted of a misdemeanor and without having to get on an airplane, buy the expensive airline tickets and perhaps spend a night in a hotel just for this.
He called Greg Hill & Associates and spoke to Greg Hill. Greg explained that he had handled many such cases in Fullerton and while he could not guarantee any specific result in a case, he described how he had negotiated a civil compromise and dismissal of such cases in the past under California Penal Code §§ 1377 and 1378 by making a $300 contribution to the Fullerton Victim Emergency Fund on behalf of the client.
Greg cautioned that he would want to look at the police report to ensure the client's case was eligible for such a good deal.
The client then hired Greg Hill & Associates and Greg Hill went to court for the client's arraignment (the client stayed in Kentucky). Greg met with the Fullerton City Attorney and proposed a civil compromise to resolve the case, as he had worked out in prior cases. The Fullerton City Attorney considered the case facts and confirmed that our client did have no prior criminal history. He then said that would be fine.
Greg then left the courtroom and made the $300 donation a few minutes later, returning to the courtroom with the receipt showing the donation.
The judge then called the case for arraignment and the Fullerton City Attorney advised the judge that a civil compromise had been reached and requested that the judge dismiss the case under Penal Code § 1385, in the interest of justice. The judge granted the request.
The client was very happy to have the case dismissed, as it otherwise would cause problems with his employment and overseas travel in the future.
For more information about public urination issues, please click on the following articles:
Contact us.