Female Public Urination, Hermosa Beach, Judicial Diversion
Our client, age 22, was in town from Washington State with friends for her birthday. Her friends offered to take her out to Hermosa Beach for an evening of dinner and drinks at several of the Pier Plaza bars. She was a single mom with a three-year old, so this was an opportunity to relax that she had missed for several years of working full-time and raising a child. Moreover, her friends were paying for dinner and drinks.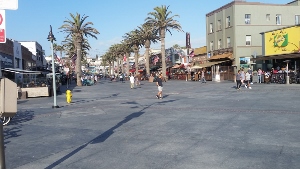 Hermosa Beach Plaza
Our client enjoyed herself a bit too much, unfortunately. The group had started early in the mid-afternoon with drinks on a Saturday afternoon and dinner was abandoned in favor of appetizers at a bar instead. It was mid-December, so the indoors of the bar felt cozy and inviting.
Condensed Version of This Case: Female client, age 22, urinates in public a few blocks from the downtown area after five hours of drinking in the Hermosa Beach Pier Plaza bars. Case resolved for an infraction and the misdemeanor was dismissed. No probation for our client.

After approximately five hours of drinking, our client realized she was extremely drunk and needed to stop. After all, it was only about 7:00 p.m. and her head was spinning. She told her friends that she could not remember ever being so drunk.
As the group was walking back to one of her friend's home on Bayview Drive, a few blocks from the downtown Hermosa area, our client felt the urge to urinate. She therefore found a spot behind two parked cars that she thought was hidden from public view, squatted and pulled down her pants to urinate.
Her bad luck was that a uniformed Hermosa Beach Police Officer on foot patrol spotted her urinating and issued her a ticket. The officer explained that she would be arrested and taken to jail if she did not sign a promise to appear in the Torrance Superior Court about two months later.
Our client, fearing a trip to the local jail, signed the ticket with a promise to appear. She stuffed the ticket in her pocket and continued onto her friend's home, where she passed out for the night.
The following afternoon, she flew back home to Washington. It was only then that she looked closely at the ticket and read that she had been cited for a misdemeanor. She used Google to look up Penal Code § 372, public nuisance, and read that she faced six months in county jail and, according to one website, she could be ordered to register for life as a sex offender.
In a panic, she called Greg Hill & Associates in Torrance. She spoke with Greg and described what happened. Greg assured her that for such facts, especially that she had no prior criminal history, she would not have to register as a sex offender. Greg also explained how her offense was eligible for judicial diversion, wherein she would be eligible to earn a dismissal, or Greg could plea bargain and possibly negotiate the offense down to an infraction for trespassing (Penal Code § 602(m)) or disturbing the peace (Penal Code § 415(2)).
Greg and the client discussed these options and the client said that due to her job in the banking industry, she would be prudent to plead to an infraction rather than a misdemeanor, even if the misdemeanor eventually would be dismissed and no conviction would result. Greg understood this choice and said he would try to so resolve the case at the arraignment.
When the day for the arraignment came, Greg appeared on the client's behalf (the client stayed in Washington state) and spoke to the Redondo Beach City Prosecutor handling the caseload for the City of Hermosa Beach. The Redondo Beach City Prosecutor read the police report and appeared disgusted by our client's behavior, calling the public urination a case of "aggravated public urination."
Greg then spoke with the Redondo Beach City Prosecutor about the fact that the client was in town only for a weekend, worked in the banking industry and was not a regular drinker due to being a single mom. Greg then asked to resolve the case for an infraction instead and the prosecutor agreed, but only after the client first made a $550 "contribution" to the Hermosa Beach nuisance abatement fund.
When the case was called, Greg asked to continue the arraignment a few weeks and explained why, describing the proposed plea bargain offered by the prosecutor. The judge continued the arraignment six weeks to give our client time to make the donation to the nuisance abatement fund.
Our office then made the donation for our client and returned to court six weeks later, showing the judge and the prosecutor the proof of payment to the Hermosa Beach treasurer's office. Good to her promised, the prosecutor then amended the complaint to add a charge against our client of violating Penal Code § 415(2) as an infraction.
Our office, on behalf of the client, then entered a no contest plea to the infraction and the misdemeanor was dismissed in the interest of justice (Penal Code § 1385). The client then had our office pay a $10 fine, plus penalties and assessments, in the clerk's office.
The advantage of an infraction over a misdemeanor is that not only is an infraction a lower level of criminal seriousness, but an infraction cannot have probation associated with it. A misdemeanor conviction, in contrast, had our client failed judicial diversion, would involve being on probation, which could be grounds for being fired at our client's job.
The client was happy with resolving the case was it was.
For more information about public urination issues, please click on the following articles:
AB 2124 – The New Pilot Program for Diversion of First-Time, Low Level Offenders in Los Angeles County Only
Contact us.