Failure to Advise Client of Immigration Consequences
When a criminal defense attorney is representing a person, who if convicted of the crime charged, faces mandatory deportation, but does not advise the client of this and the client enters a plea to the charge rather than choosing to proceed to trial, that attorney's conduct is ineffective assistance of counsel (IAC). Such IAC may then support the client's later petition for writ of habeas corpus to allow the client to withdraw his plea and have the case remanded back to the trial court.
While this law has been well-known and repeated in many cases since the U.S. Supreme Court ruling in Padilla v. Kentucky (2010) 559 U.S. 356, 375, the recent Fourth Appellate Court opinion In re Reyna Perez Hernandez (2019 DJDAR 2527) on a habeas corpus petition went further, as the appellate court forwarded a copy of its opinion to the State Bar under Business & Professions Code §§ 6086.7(a)(2) and 6086.7(b) to investigate the attorney for possible discipline for his IAC in the case. This is the first time such a referral to the State Bar has been seen over a habeas corpus ruling.
A bit of background on the ruling and the State Bar referral is needed to fully appreciate the gravity of the appellate court ruling, based on a case that originated out of the Orange County Superior Court.
The Gist of this Article: In the following summary, the California Supreme Court found defense counsel's performance constituted ineffective assistance of counsel (IAC) for his failure to warn a non-citizen about the mandatory deportation consequences of her plea. The California Supreme Court reported the attorney to the State Bar for professional discipline.

In December of 2014, Ms. Hernandez was arrested by the Tustin Police Department for possession of methamphetamine for purposes of sale in violation of Health and Safety Code § 11378. Ms. Hernandez was not a citizen of the United States. She was found in an alley at about 10:30 p.m., driving a car in a high crime area on a routine patrol. After officers saw her hand something to someone standing in the alley, they stopped her car.

Ms. Hernandez then got out and while the police were frisking her for suspicion of making a sale of drugs, she dropped a baggie measuring one inch by one inch that contained methamphetamine. Officers believed because she was trying to get rid of evidence of her role in selling meth. They then searched the car she was in and found a pipe used to smoke meth and four more similar baggies with 0.22, .22, 0.09 and 0.10 grams of meth (usable quantities). The car also had a functioning digital scale and a replica gun and 9 mm. ammunition.
She did not retain private counsel and so the judge appointed Michael Currier as her trial counsel. Hernandez, in her writ of habeas corpus, stated that after meeting with Currier, Currier told her that the pending plea bargain involved her pleading guilty to a violation of Health and Safety Code § 11378, a felony, and thereafter serving no more than 90 days in county jail (and less with good behavior). If she did not plead guilty and went to trial and was convicted, she could face three years in prison (but this would be served in county jail).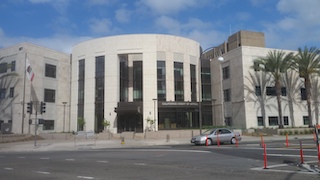 CA Court of Appeal 4th District Division 3 Orange County
Hernandez told Currier about her having several young children that she cared for, but he still recommended the plea bargain. He allegedly never told Hernandez that once she finished her jail time, she would be deported, which was true because sales of a controlled substance is an aggravated felony under 8 U.S.C. § 1101(a)(43)(B).
In 2015, Hernandez signed a Tahl waiver and initialed the areas that said she was aware that "if I am not a citizen of the United States, my conviction for the offense charged will have the consequence of deportation, exclusion from admission to the United States, or denial of naturalization pursuant to the laws of the United States." She then entered her plea and was sentenced to 90 days in the Orange County jail and three years of supervised probation.
In his declaration in support of Ms. Hernandez's writ of habeas corpus, Currier stated that he did not discuss with the prosecutor alternative pleas to avoid adverse immigration consequences. He also candidly stated that he did not discuss the immigration consequences of her plea or thinking that she would be deported.

Hernandez was released from the Orange County jail after serving 43 days. However, she was then immediately transferred to the custody of immigration officials at the Adelanto Detention Facility. She refused to sign paperwork saying she agreed to be deported. She then spent eight months in immigration detention before posting an immigration bond and being released. She then resumed her work as a medical assistant and began efforts to regain custody of her children, who had been placed in foster care.
In her petition for writ of habeas corpus, Hernandez argued that she received ineffective assistance of counsel in violation of the Sixth Amendment. In support of her petition, she offered a declaration of Katherine Brady, an attorney, who suggested Hernandez could have pleaded to non-deportable alternative offenses such as ("pleading up" to offenses with more exposure, but still non-deportable) such as Health and Safety Code § 11379(a), distribution of a controlled substance (since the substance is not specified, it is not an aggravated felony under federal law), or accessory after the fact under Penal Code § 32, as Hernandez was selling meth with some other men.

We offer this article not to embarrass Mr. Currier, but to help those who are not U.S. citizens facing sales of methamphetamine charges to avoid deportation by pleading to another charge that is not an aggravated felony under immigration law.
The citation for the Fourth Appellate District Court ruling discussed above is In re Reyna Perez Hernandez (4th App. Dist., 2019) 33 Cal.App.5th 530.
For more information about an attorney's failure to warn a client of the immigration consequences of a plea, please click on the following articles:
Contact us.