Evidence Suppressed from 2nd Search After 1st One Improper
It is not uncommon for police to take a "the ends justify the means" approach in their investigation of a criminal matter. For example, police are permitted to lie to a suspect in questioning him or her to elicit a confession or confirmation of information. Police are allowed to operate in "good faith," even if the "good faith" is based on a mistake of law, to protect an arrest or evidence. Police will often also search a car for identification when the driver is holding the identification for the officer, but the officer insists upon "looking for more documents," as the driver asks "such as what?" and the officer finds drugs.
However, there are limits to such stretching of our Fourth Amendment rights against unlawful search and seizure.
In a Nutshell: A defendant has a Fifth Amendment right to remain silent once he invokes it, so any questioning which thereafter persists is illegal and all evidence obtained thereafter is illegal from the search based on the post-Miranda request to remain silent. The following summary involves a suspect found in the house of actress Sandra Bullock.

Joshua Corbett was arrested for breaking into the home of celebrity Sandra Bullock in June, 2014. Police responded to her house at 6:35 a.m. in response to her call to police that a man wearing a dark sweatshirt and dark pants was in her house. Officers caught Corbett inside the house, walking down a staircase.
He was taken to the police station, where he invoked his Fifth Amendment right to remain silent under
Miranda
. Police questioned him anyways and Corbett relented, eventually advising police of his address and his gun collection.
Police then went to his house and searched his house without a warrant and without his consent. They found guns and ammunition.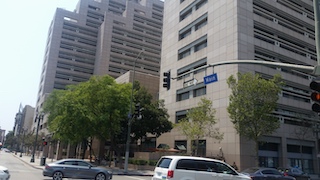 2nd Appellate District Court of Appeals CA Los Angeles
The District Attorney then filed a 24-count criminal complaint against Corbett for various firearm related offenses, such as possession of a machine gun (Penal Code § 32625(a)), three counts of possession of an assault weapon (Penal Code § 30605(a), ten counts of possession of a destructive device (illegal ammunition) (Penal Code § 18710(a)), two counts of machine gun conversion (Penal Code § 32625(b) and one count of illegal activity with a 0.50 BMG rifle (Penal Code § 30600(a). He was also charged with one count of first degree burglary (Penal Code § 459) and stalking (Penal Code § 646.9(a)).

The following day, police obtained a warrant and went back to the house to search his gun safe, based upon his interrogation at the police station and the guns found during the first warrantless search. The warrant application did not include any assertion or any facts demonstrating a fair probability that evidence pertaining to the offenses of stalking or burglary would be found at Corbett's house. In other words, it was a fishing expedition.

The case went to trial, at which time Corbett's attorney moved to suppress the statements made during his police station interrogation (Fifth Amendment violations) and the evidence found during the first warrantless search of his house (Fourth Amendment violation). The trial court granted the motion to suppress.

The District Attorney filed a writ of mandate compelling the trial court to vacate its order granting the motion to suppress and to issue a new order denying the motion.

The Second Appellate District denied the writ (People v. Superior Court and Joshua James Corbett (2017 DJDAR 1397)).

The appellate court found that Corbett had unambiguously invoked his right to remain silent, meaning the Los Angeles Police Department had violated Miranda v. Arizona (1966) 384 U.S. 436, 86 S.Ct. 1602, 16 L.Ed.2d 694. Once Corbett indicated he wanted to remain silent, "the interrogation must cease." People v. Jackson (2016) 1 Cal.5th 269, 339. A statement obtained in violation of Miranda may not be admitted to establish guilt in a criminal case. Id. The court found "no dispute" that Corbett's Fifth Amendment rights were violated.

The appellate court also found that the LAPD also violated the Fourth Amendment, which guarantees the right of citizens to be free from unreasonable governmental searches and seizures. U.S. Const. 4th Amend; see also Terry v. Ohio (1968) 392 U.S. 1, 8-9. While there are exceptions to the Fourth Amendment, very few apply to the unambiguous dimensions of a person's home. Payton v. New York (1980) 445 U.S. 573 589. A search inside a home is presumptively unreasonable and thus, illegal.

The exclusionary rule prohibits introduction into evidence of tangible materials seized during an illegal search. Weeks v. United States (1914) 232 U.S. 383, 34 S.Ct. 341, 58 L.Ed. 652. Consequently, all evidence found in not only the first search, but the second search as well, was affirmed as ordered suppressed.

The People claimed that Corbett had consented to the search, but the appellate court found that this "consent" was elicited in violation of Corbett's Fifth Amendment right to remain silent.

The appellate court's ruling does not mean the case against Corbett would be dismissed. He remains a defendant on counts of first degree burglary and stalking.

The citation for the Second Appellate District Court ruling discussed above is People v. Superior Court (Joshua James Corbett) (2d. App. Dist., 2017) 8 Cal.App.5th 670.