Enhancement for Being Armed with a Firearm – Sentencing
Prior to the passage of Senate Bill 620, a judge did not have discretion under Penal Code § 1385 to not strike any firearm enhancement found true by the jury.
Such enhancements had to be imposed consecutively (not concurrently) to the term imposed for the underlying conviction. Penal Code § 1170.1(a), (d); Ex Parte Shull (1944) 23 Cal.2d 745, 749.
About This Article Briefly: The rules for sentencing when there is an enhancement for possession, use and / or discharge of a firearm are tough, but well developed, with certain expected exceptions as the following article explains.

When an enhancement is punishable by one of three terms, i.e., under Penal Code § 12021.5(a) ("carrying a firearm while committing a street gang crime"), the term of punishment is one, two or three years, the judge must impose the term that best serves the interest of justice and state the circumstances indicating its choice of terms on the record. Penal Code § 1170.1(d), see Abeyta v. Giurbino (CD Cal. 2009) 607 F. Supp. 2d 1123, 1135.

When an individual is sentenced to consecutive terms in which one term, whether the principal or subordinate term, is punishable by state prison must serve the aggregate term in state prison (not partly in state prison and partly in county jail). Penal Code § 1170.1(a).
The same is true for defendants sentenced to concurrent terms for which one term is punishable by state prison; defendant must serve the sentence in state prison even if the term for any other offense specifies imprisonment in the county jail under Penal Code § 1170(h) ("AB 109"), Penal Code § 669(d); People v. Torres (2013) 213 Cal.App.4th 1151, 1160.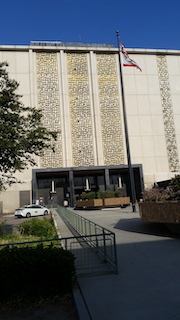 Norwalk Courthouse
Similarly, when an enhancement specifically provides for a term to be served in state prison, the entire term must be served in state prison even when the underlying offense would otherwise be served in county jail under Penal Code § 1170(h) ("AB 109"); People v. Vega (2014) 222 Cal.App.4th 1374.
When sentencing on subordinate offenses and one term of punishment is provided for in an enhancement, the court must impose one-third of that term. Penal Code § 1170.1(a), (d); People v. Hill (2004) 119 Cal.App.4th 85, 91; People v. Moody (2002) 96 Cal.App.4th 987, 994. For example, the punishment for a ten-year enhancement alleged under Penal Code § 12022.53(b) to a subordinate offense is three years and four months.
However, when an enhancement provides other possible terms, the court may impose one-third of the lower, middle or upper term on subordinate offenses, unless the subordinate offense is a sex offense. This limitation also does not apply to subordinate terms that are indeterminate terms – in which case the full term on the enhancement must be imposed consecutively. People v. Gamache (2010) 48 Cal.4th 347, 409 (remanded for trial court to choose full lower, middle or upper term consecutive to three life sentence counts).
When a sentence for a subordinate offense is imposed concurrently, the firearm enhancement cannot be imposed consecutively as a subordinate term of its own. People v. Bui (2011) 192 Cal.App.4th 1002, 1017 (error to impose additional three years, four months for Penal Code § 12022.53(b) violation when subordinate offense of violating Penal Code § 211 was run concurrently); People v. Mustafaa (1994) 22 Cal.App.4th 1305, 1311 (improper to impose consecutive terms for gun-use enhancements in two counts while imposing concurrent terms for robbery convictions in same counts).
Sometimes, however, "the exception swallows the whole." The rule provided for by Penal Code § 1170.1(a) regarding imposition of one-third of the term of the enhancement on subordinate terms does not apply to the Penal Code § 12022.53(d) (discharging a firearm causing great bodily injury or death while committing a violation of Penal Code §§ 187, 203/205, 207/209/209.5, 211, 215, 220, 245(d), 261/262, 264.1, 286, 288/288.5, 288a, 289, 4500, 4501, or 4503; any felony punishable by death or life in prison; or any attempt of the above other than an assault, Penal Code § 246, or Penal Code § 26100(c) or (d)). Under the § 12022.53(d) enhancement, an individual receives the full 25-to-life enhancement term for each qualifying offense, even if the incident concerned only one act and involved only one victim. People v. Palacios (2007) 41 Cal.App.4th 720, 732 (defendant convicted of attempted murder, kidnap for robbery, and kidnap for carjacking on basis of one shot at one victim and given 25-to-life enhancements for each offense).
We present this article not so much to convey that firearm-use enhancements can be punishing, but to encourage the reader to look carefully at each enhancement to verify it is being applied correctly, as this area of the law can be counter-intuitive and ruled by exceptions.
For more information about other firearm issues, please click on the following articles: