El Monte, 2nd Time DUI, 0.21% BAC, Four Days County Jail
Our client, age 34, suffered his third DUI conviction in El Monte after crashing his car into a ditch on the side of the road. It was his second DUI within the last ten years, so his prior DUI, eleven years earlier was not "counted" as a DUI conviction within ten years.
Our client was returning home after an evening with friends on draft night for a fantasy football league. As our client was driving home in his new Subaru, he passed a white Nissan driven by an Asian female. In front of him was another car.
Summary: Client suffered his third DUI in 11 years, but only second within 10 years. Car accident and he had a 0.21% BAC. Case filed in El Monte Superior Court. DA at first wanted 60 days in county jail due to client's history, as well as the high BAC and car accident in this case, but case resolved for ten days of community service and minimum second-time DUI terms.
Suddenly, the car in front of him swerved in front of our client, causing our client to take evasive action to avoid a collision. Our client avoided a collision, but lost control and overcorrected to stay on the road, sending his car into a spin off the road and into a ditch nearby.
The client's On-Star system notified police of the accident.
The Asian female stopped to check on our client and told police that she had seen our client swerve to avoid a collision and then lose control .
At the scene, police had our client submit to a breath test on a Preliminary Alcohol Screening (PAS) device and his blood alcohol content (BAC) was measured at 0.21% twice. He was then arrested and taken to the El Monte Police Station.
Once at the station, he submitted to a further breath test with the same results. He was then released with a signed promise to appear in the El Monte Superior Court in about two months.
The client immediately called Greg Hill & Associates and spoke to Greg Hill. He described what had happened and asked many questions about what punishment he would face, as he had just been through a second-time DUI and was concerned about facing more punishment since it was his third DUI in eleven years.
Greg explained that the prosecutors in El Monte were tougher than in most courthouses in Los Angeles County, so our client's concern about tough punishment was proper. However, since the client did not crash due to his own impairment alone, Greg thought punishment may not be too tough. Nonetheless, he was driving at well over twice the legal limit.
Greg suggested that the client immediately enroll in an SB38 18-month DUI program to help Greg negotiate a fair plea bargain. The client did so.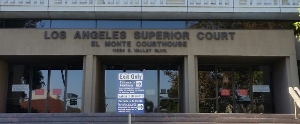 El Monte Superior Courthouse
Our client was very worried about this, as he knew he'd lose his job if he even missed one week of work. Greg told the client not to worry quite yet.
Slowly, Greg whittled down the offer to just 96 hours of county jail (explaining that the crash was not his own), ten days of community service (community labor is far more painful) and otherwise, the same terms and conditions. The client was very happy with this.
Epitomizing how tough the El Monte court is, the judge then required our client to be present to enter his plea. The judge then ordered, as a condition of probation (on top of what the DA offered) that our client not consume any alcohol for the next five years of probation. Greg objected to this, arguing that the consumption of alcohol is only an issue if the client were to operate a motor vehicle. The judge then relented on this, modifying the no alcohol condition to the first 18 months of informal probation, which was still unusual. The judge's comment on this was, "well, if he does not want this condition of probation, he can just convert his sentence to county jail," which was also impractical for our client, who was employed.
We offer this case summary as a cautionary tale to show how certain courthouses treat DUI more harshly than others, especially when the facts are not favorable to a person accused of DUI like in this case.
For more information about DUI and the issues in this case, please click on the following articles:
Contact us.