Early Assertion of Right to Speedy Trial Better than Later
A defendant in a California superior court generally has a speedy trial right based on three things: first, the Sixth Amendment to the U.S. Constitution, as applied to the states through the due process clause of the Fourteenth Amendment; second, article I, section 15 of the California Constitution; and third, statutory enactments, such as Penal Code § 1382.
In a sexually violent predator commitment hearing, there are no statutory trial deadlines (Litmon v. Superior Court (2004) 123 Cal.App.4th 1156, 1170-1171), but the Sixth Amendment of the federal constitution still applies as does article 1, section 15 of the California Constitution. Indeed, a commitment under the Sexually Violent Predator Act (SVPA), however, undoubtedly constitutes a significant deprivation of liberty that requires due process protection. People v. Hurtado (2002) 28 Cal.4th 1179, 1194.
It is against this framework that Stephen R. Bradley filed a motion to dismiss his civil commitment case under the SVPA for deprivation of his right to a speedy trial.
Brief Synopsis: The judge may give less weight to a later demand for a speedy trial than a demand for this from the outset or early in the case, as the following summary explains.

Mr. Bradley had served 24 years in state prison for three sexual assault crimes. Shortly before his scheduled release date, the district attorney filed a petition seeking his commitment to a state hospital as a sexually violent predator under Welfare & Institutions Code § 6600, et seq.
As the reader of this article may already be aware, commitment to a civil hospital under the SVPA is a two-step process. First, the judge must find probable cause that defendant is likely to engage in sexually violent predatory criminal behavior upon his release. Then there is a trial to determine if this is proven by the state as meritorious. Such a trial is necessarily "a battle of the experts," wherein defendant and the People each have experts testify as to defendant's likelihood to reoffend and be a danger to the public.
On October 15, 2014, the Superior Court of Sacramento found probable cause that Mr. Bradley was likely to engage in sexually violent predatory criminal behavior upon his release, so Bradley was ordered housed in a state hospital pending an SVPA trial.
The first hearing for his SVPA trial took place three months later, at which time defense counsel requested a continuance to prepare for trial in securing experts and for defendant to settle into the hospital and engage in limited treatment.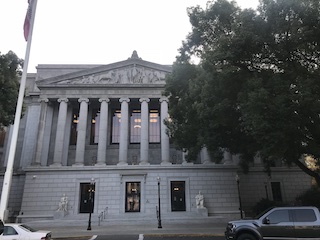 Court of Appeal Third Appellate District Sacramento
Trial kept getting continued upon defense requests for more time to prepare for trial, but in mid-April 2017, he demanded trial and the judge set a trial date in October 2017. However, defense counsel then developed a medical condition and required surgery, so defense counsel requested a trial continuance and trial was continued to February 21, 2018.

Just before the February 2018 trial date, the prosecution filed a motion to continue trial to allow two of its experts to update their reports. One of the prosecution's experts had also retired. The prosecutor then requested a trial date in April 2018.
Defense counsel opposed the continuance request, arguing that the SVPA requires the prosecution to prove the diagnoses are current. Thus, the district attorney was well aware of the necessity for having updated evaluations, but failed to secure them. Second, defendant had a due process right to a speedy trial and he had demanded a trial an entire year earlier.

Over defendant's objections, the trial court found good cause to continue trial and did so for six weeks to April 2018. Trial then proceeded and Mr. Bradley was committed civilly for treatment and confinement.
Defendant appealed this ruling to the Third Appellate District. The Third Appellate District began its analysis by noting that in determining whether a delay in trial has resulted in a denial of due process, the court will consider the length of the delay, the reason for the delay, the defendant's assertion of his or her right and the prejudice to defendant. Litmon v. Superior Court (2008) 162 Cal.App.4th 383.
The judge must also determine "whether the government or the criminal defendant is more to blame for the delay. Doggett v. United States (1992) 505 U.S. 647, 120 L.Ed. 2d 520. Turning to the facts in this case, the Third Appellate District pointed out that although defense counsel requested trial in April 2017, it was defense counsel who requested trial begin in October 2017. Furthermore, it was defense counsel who requested multiple delays to accommodate defense counsel's schedule.

Moreover, "a belated assertion of a procedural due process right to a speedy SVP trial is entitled to less weight than a prompt assertion of such a right." Litmon, supra. Here, only one six-week delay was due to the prosecution. Therefore, the trial court did not abuse its discretion in granting the district attorney's motion to continue the trial date.
We present this summary of a reported decision because we often have clients who "want their cake and to eat it, too." The client eagerly wants to see the police report after the arraignment and does not assert a right to a speedy trial, but later requests a speedy trial. This delay in requesting a right to a speedy trial is given less weight than a request for a speedy trial asserted from the outset.

The citation for the Third Appellate District Court ruling discussed above is People v. Stephen R. Bradley (3d App. Dist., 2020) 51 Cal. App. 5th 32, 264 Cal. Rptr. 3d 819.
For more information about the right to a speedy trial, please click on the following articles: