Downtown Los Angeles, DUI, Car Accident, DMV Set Aside
Our client, who we had represented four years earlier in a solicitation of prostitution case in the East Los Angeles Superior Court, was now 28 and married with a son on the way.
In a Nutshell: Client involved in a car accident with a passenger. The car is totaled. Despite having a broken neck, he runs away from the scene, only to be caught by the police as he tries to jump over a fence. He is taken to a hospital and his blood is not drawn until more than three hours after he last drove. Suspension set aside because BAC is legally irrelevant as not complying under Vehicle Code § 23152(b).

He was struggling with the responsibilities that awaited him and went out with friends on a Friday night to relax. The group went to a few bars in Hollywood before our client lost contact with his friends and decided to drive home to Downey.
As he was driving home, he began driving faster and faster. At 0200 that Saturday morning, he crashed. At first, he sat in his car, dumbfounded at crashing and realizing his being drunk was going to be a problem if he did not leave quickly. A friend of his was yelling at him for what he did. The car was totaled.
Just as he decided to walk away, police were tapping at his window and shining a flash light on his face.
Our client opened up the car door, stood up and then decided to run. He ran down the street and jumped over a fence before Los Angeles Police Department Police Officers caught him.
Our client complained of a sore neck, but did not think it was a severe injury. It just was kind of a dull pain.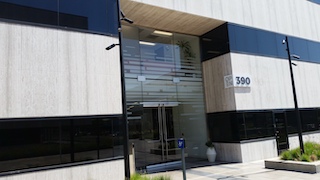 El Segundo DMV
At 6:30 a.m. the same Saturday morning, the client called Greg Hill & Associates from the hospital to ask what he should do. The client said the hospital told him he had a broken neck. The client wanted to know if he should talk to the police. He wanted to know if he should agree to a blood test or a breath test.
The conversations expanded to include the client's mother also calling to ask questions. It was tough to answer the questions without knowing more information, but Greg explained how the client could face felony DUI charges (Vehicle Code § 23153) if his passenger was injured, evading or obstructing arrest charges (Penal Code § 148(a)(1)) for running away from police officers, as well as regular DUI charges (Vehicle Code § 23152(a) and Vehicle Code § 23152(b)) if the client was impaired by alcohol in his driving and if his blood alcohol content (BAC) was 0.08% or higher by weight.
Based on the location of the California Dignity Health Hospital being downtown and the general direction of the client's driving, it was believed that the DMV hearing would be heard in the El Segundo DMV. Therefore, using the client's file from the earlier prostitution case (which had the client's driver's license number), our office reserved a DMV hearing the following Monday so that the client's driving privileges would not be suspended automatically in thirty days if such a hearing was not reserved within ten days of the citation.
As often happens in the most serious DUI cases involving a car accident, our client's blood was not drawn within three hours of his last driving. In the chaos that ensued after the crash and in taking the client to the emergency room, prosecuting a DUI was a low priority. The top priority was simply giving our client urgently needed medical care.
Consequently, it was no surprise to us, but it was to the client, that his driving privileges were reinstated because the DMV failed to obtain a BAC for the client within three hours of his last driving, meaning the presumption otherwise applicable under Vehicle Code § 23152(b) did not apply.
Our client was greatly relieved of this DMV ruling.
For more information about DMV issues, please click on the following articles:
Contact us.