Downey, Petty Theft (Penal Code § 484) Conviction Expunged
Our client, when 19 years old in 1999, was stopped for petty theft at Walmart in Downey. Loss prevention noticed him walk out of the store without paying for several pairs of pants and shirts that he had put in his backpack, not knowing loss prevention was able to observe this through an overhead video camera in the store.
The client was embarrassed at being caught, but not about later being convicted of a misdemeanor for a crime of dishonesty. He used the services of a public defender at the first hearing (the arraignment) at the Downey Superior Court and took the first deal offered. He thought it "was no big deal" and truly believed that the conviction "would drop off my record" after seven years like his friends assured him.
Twenty years later, his friends' "legal advice" proved quite wrong as he was still finding difficulty with employment for any period of time with decent pay. His record still showed his conviction for a crime of dishonesty, petty theft.

Ironically, perhaps, he was working as a security officer at just the type of store he shoplifted from twenty-one years earlier. When he was hired, he was advised that his first 90 days were considered a "probationary period" wherein he would work, but not have any choice of when he could work or at which of three local stores for the "Big Box" retailer.
He was also told that his employment long-term was contingent upon his passing a background check. This concerned him greatly and so he called Greg Hill & Associates about having his prior conviction expunged.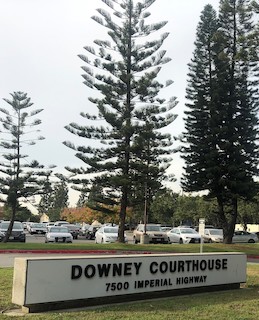 Downey Courthouse
Greg and the client discussed the prior conviction. Greg explained that expungement did not erase, delete or otherwise remove the prior conviction from his record. It did not restore his record to "clean," but it did allow him to legally state under Penal Code § 1203.4, in response to any employment application question, that he had not been convicted of the crime expunged (except if he were applying for public office, applying to operate a state lottery or applying for a state license or governmental job). Greg also explained that his original plea of "not guilty" would be reinstated in place of "no contest" and the last disposition of the case would change from conviction to dismissed.
The client seemed satisfied with such limitations, as he was told that if his conviction were expunged, he would be able to keep the job; if it were not expunged, he would lose the job. Greg commented that he thought few employers would consider a conviction 21 years old, committed when someone was only 19, relevant at all, especially for something relatively minor like shoplifting (even if one was applying to be a security guard at the same type of store that our client stole from 21 years earlier).
The client then retained Greg Hill & Associates to prepare, file, serve and then attend the hearing on his petition for dismissal under Penal Code § 1203.4. Our office then e-mailed him a list of about ten questions to answer about the basic facts of the case, what he was doing for a living, why he wanted the case dismissed instead of showing he was convicted and any major accomplishments in his life that showed he was a good citizen otherwise.
The client responded by describing his employment difficulties over the years and explained that he was engaged to be married soon and did not want to be changing from one job to another job at this time in his life. He wanted a steady income to support his new family.
Our office then prepared a supplemental memorandum of points and authorities, along with a declaration from the client incorporating his responses to our questions, to attach to the FL-180 Petition for Dismissal form that we then filed, paying the $120 filing fee at the Downey Superior Court. Our office also served the petition on the Downey District Attorney's Office.
About four weeks later, the judge held a hearing on the petition at the Downey Superior Court and Greg appeared at the hearing for the client, who stayed at work. The judge granted the petition.
Greg then notified the client of the ruling via e-mail. The client was very happy with this result, as it helped him keep his current job.

For more information about expungement of a misdemeanor issues, please click on the following articles: