Double Jeopardy? Murder Charge After Plea to Accessory
Summary in 50 Words or Less: The constitutional right against double jeopardy and Kellett v. Superior Court were not violated when defendant is charged with murder after pleading to conspiracy to murder because, in this case, the murders and the conspiracy involved two separate courses of conduct.

In the early morning hours of November 16, 2007, Paige Linville and her boyfriend Mario Moreno drove in Linville's SUV to a parking lot of a shopping center in Vallejo, California to sell drugs after having smoked meth together.
The two often sold drugs to support their meth habit. After they sold some drugs and were leaving the parking lot, Amber Chappell, on foot, tried to flag them down, but Moreno and Linville declined to stop for her. Linville then asked Moreno if he had ever thought about killing someone and Moreno said he had.

Linville and Moreno then went back and saw Chappell again. Moreno asked Linville if she wanted to kill Chappell and Linville said yes. Moreno and Linville then pulled up to Chappell. Chappell then got into the SUV. She was apparently quite high and was touching Moreno flirtatiously.

Moreno then stopped the car and told Chappell to get out. She refused, so Linville and Moreno pulled her out. Moreno also got out of the car and the then shot Chappell multiple times in her head. Linville and Moreno then drove off.

They then drove to a 24-hour Walmart and bought some cleaning supplies and cleaned the inside of the SUV. They then went to a car wash in Vallejo later in the day and cleaned out the car again.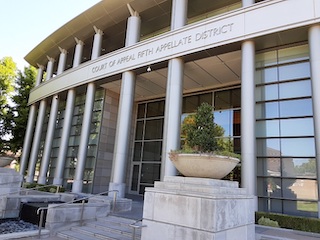 Fifth District Court of Appeal Fresno
The two then smoked more meth and saw a woman, later identified as Christina Baxley, walking a dog. Moreno stopped the car. Linville then got out of the car and shot Baxley. Moreno later testified at trial that he told Linville to do this so Moreno would not have worry about being the only killer of the two.

About two to five days later, Linville drove her SUV to Richmond and got rid of it by trading cars with a friend.
About a month later, police arrested Moreno for both murders. Moreno confessed to being present at both crimes, but told police Linville committed the crimes. The next day, Linville was arrested and denied knowing anything about the killings. She then asked for a lawyer.
Moreno was then charged with two counts of murder, but Linville was not charged with anything. However, five days later, police filed a felony complaint against Linville, charging her with being an accessory after the fact to murder by Moreno and possession of methamphetamine.
A week and a half later, Linville plead guilty to both counts and was sentenced to three years for the accessory charge and received a total prison term of three years and eight months.
Shortly afterwards, several prison inmates came forward and volunteered to authorities that Linville had made numerous incriminating, even boastful, statements about participating in the murders and about getting away with it because charges could not be refiled against her.
Linville then served less than two years in custody and was released in November, 2009 on parole.
Shortly thereafter, in late March, 2010, Moreno was scheduled to go to trial on the murder charges against him and agreed to testify against Linville as part of a plea bargain. On March 30, 2010, Linville, rearrested and charged with both murders, with conspiracy to commit the second murder.

The defense for Linville contended before trial that the present prosecution was barred by Penal Code § 654 and Kellett v. Superior Court (1966) 63 Cal.2d 822, interpreting 654's bar against successive prosecutions. The prosecution argued that 654 did not apply because the earlier complaint and the present complaint did not involve the same course of conduct and furthermore, that it had insufficient evidence to charge her with murder at the time of the initial prosecution because it wasn't until after she was convicted and sentenced did she make numerous incriminating admissions.
Linville's motions to dismiss the second complaint were all denied and the case proceeded to jury trial. The jury found Linville guilty of both first-degree murder and conspiracy to commit murder in the Baxley killing. The judge then sentenced Linville to twenty-five years to life in prison.
Linville then appealed the conviction to the Fifth Appellate District Court of Appeals. The Court acknowledged that Penal Code § 654 proscribes multiple punishments and multiple prosecutions for the same act. "The rule against multiple prosecutions is a procedural safeguard against harassment."

However, here, Linville's first case was only as an accessory; not a principal. It was based on a theory that someone else, Moreno, committed the murders. The second prosecution was based on her committing the murders. Therefore, the two prosecutions did not involve the same course of conduct. Linville's participation in the murders and her subsequent cover-up (by trading her SUV) were distinct in time. One case (the second) had the objective of killing; one (the first) had the objective of avoiding detection.
Therefore, principals of double jeopardy and Penal Code § 654 did not bar the second case and the Fifth Appellate District affirmed the trial court.
We bring this summary to the reader's attention because not only does it highlight the importance of not "running one's mouth" with other prisoners, but to explain that an accessory and a principal in the same crime have very distinguishable, different roles.
The citation for the Fifth Appellate District Court ruling discussed above is People v. Paige Linville (5th App. Dist., 2018) 27 Cal. App. 5th 919.
For more information about double jeopardy and Kellett issues, please click on the following articles: