Does Senate Bill 1391 Undermine Prop 57's Intent?
Brief Synopsis: Senate Bill 1391's prohibition on transfer hearings for 14 and 15 year olds (effectively raising the minimum age one can be tried as an adult from 14 to 16) does not undermine the intent of Prop 57 to mandate filings of all cases against juveniles in juvenile court (and then be subject to transfer hearings).

In 2016, California voters approved Proposition 57, called the Public Safety and Rehabilitation Act of 2016. Generally speaking, it provided three things:
early consideration for parole for certain nonviolent inmates who were otherwise not disqualified upon completion of the full term of the primary offense;
increased custody credits for most all prisoners demonstrating good behavior who completed certain educational, rehabilitative or self-improvement milestones; and
limiting prosecutorial discretion by eliminating ability to directly file charges against minors ages 14 to 17 in "adult" court, requiring them to instead file in juvenile court first and then see the juvenile court judge's approval to transfer the case to adult court.

Where voter initiatives like Proposition 57 are concerned, the California Constitution limits the power of the Legislature to "undo what the people have done" (Proposition 103 Enforcement Project v. Quackenbush (1998) 64 Cal.App.4th 1473, 1484) unless the initiative itself allows legislative amendment. Proposition 57 contains such an allowance, permitting legislative amendments that are "consistent with and further [its] intent." Ballot Pamp., text of Prop 57 at § 5.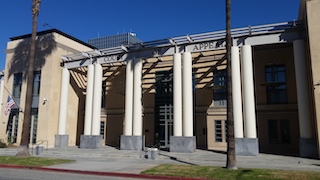 4th Appellate District Division 2 Riverside
In 2018, the Legislature enacted Senate Bill 1391, which eliminates prosecutors' ability to seek transfer hearings for 14 and 15 years-old offenders, effectively raising the minimum age a child can be tried as an adult from 14 to 16. This obviously angered many prosecutors when there was a serious crime because now the juvenile at issue would avoid the tough sentencing possible in "adult" court and instead enjoy considerably less punishment in juvenile court.
Therefore, prosecutors challenged the legality of Senate Bill 1391 in the case of B.M. In B.M. v. The Superior Court of Riverside County, decided by the Fourth Appellate District on October 1, 2019 (2019 DJDAR 9479).
B.M. was fifteen in 2018 when she was prosecuted for murder-arson with special circumstances (Welfare & Institutions Code § 602, Penal Code §§ 187, 190.2(a)(17)(H)). B.M. was sixteen days shy of her sixteenth birthday when she murdered her mother.

While her case was pending before the juvenile court deciding the prosecutor's motion to transfer the case to "adult" court, arguing B.M. was unfit for the juvenile justice system, the Legislature passed and the Governor signed into law Senate Bill 1391. The prosecutor then argued that Senate Bill 1391 is not consistent with and does not further the intent of the voters as expressed in Prop 57. B.M.'s counsel, in opposition to the transfer motion, argued that 1391 is consistent with and furthers the aims of Prop 57.
After hearing arguments from the parties, the juvenile court judge concluded that 1391 was unconstitutional because it conflicts with the express purpose of Prop 57 to authorize judges to transfer 14 to 17 year-olds to criminal court ("adult court"), but did not rule on the prosecutor's transfer motion, to permit B.M. to seek review with the Fourth Appellate District first.
The Fourth Appellate District then reversed the juvenile court's finding that 1391 was invalid and denied the motion to transfer B.M. to criminal court ("adult court").

The Fourth Appellate District reasoned that the voters, through Prop 57, did not create a mechanism to transfer 14 and 15 year -olds to criminal court (from juvenile court). Moreover, declaring 1391 unconstitutional would "freeze any effort at youth justice reform" when Proposition 57's goal was promoting youth justice reform. In addition, 1391 promoted Prop 57s goals by limiting prosecutorial discretion and promoting rehabilitation rather than punishment to stop "the revolving door of crime by emphasizing rehabilitation."

While we applaud efforts to rehabilitate juvenile offenders, we find the reasoning of the Fourth Appellate District Court rather confusing. Why rely upon Proposition 57's silence concerning fourteen and fifteen-year olds for transfer to adult court? Why rely upon general principals of Proposition 57, but apply them only to fourteen and fifteen-year-olds? Why not apply the same logic to sixteen and seventeen-year olds, too? In other words, we think this decision, while certainly beneficial to any fourteen or fifteen-year-old, is vulnerable to reversal by the California Supreme Court, if appealed to that court.
The citation for the Fourth Appellate District Court ruling discussed above is B.M. v. The Superior Court of Riverside County (4th App. Dist., 2019) 40 Cal.App.5th 742.

For more information about SB 1391 and Prop 57, please click on the following articles:
Contact us.