Does Prop 47 Relief Bar Commitment As an MDO?
Why This Article Matters: Reducing a felony conviction to a misdemeanor conviction does not mean someone who is otherwise qualified as a Mentally Disordered Offender will avoid being civilly committed to promote public safety.

If one is found to be a Mentally Disordered Offender (MDO), a common assumption is that the person committed a horrendous, violent crime, similar to someone who is found to be a Sexually Violent Predator (SVP) after committing a serious sex offense.

This common assumption concerning an MDO is not the law, but merely how criminal defense attorneys, prosecutor and judges characterize an MDO. In fact, under Penal Code § 2962, there are six criteria that must be found for a judge to designate someone an MDO. They are:
1. That the person (called the offender) suffers from a severe mental disorder;
2. That the disorder is not in remission or cannot be kept in remission without treatment;
3. That the offender poses a risk of danger to others;
4. That the offender's severe mental disorder was a cause or aggravating factor in the commission of the underlying crime;
5. That the offender was treated for least 90 days preceding his or her release; and
6. That the underlying crime was a violent crime enumerated in Penal Code § 2962(e).
It is against this measuring stick, specifically the sixth requirement, that Mr. Ralph Pipkin in Alameda County brought a motion to dismiss an MDO commitment proceeding against himself after his 2009 felony grand theft conviction was reduced to a misdemeanor under Prop 47.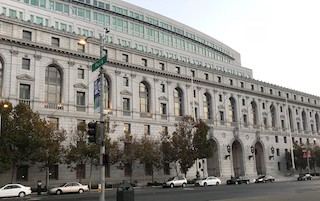 Court of Appeal First Appellate District San Francisco
In the underlying case, Pipkin walked up to a lady, grabbed her sweatshirt that she was wearing and stated, "give me your phone." He then punched her in the mouth. A male witness nearby tried to intervene to prevent the crime and Pipkin punched the male in the jaw, too.
Pipkin was then arrested and later convicted of grand theft. He was sentenced to two years in state prison.
As a condition of parole, Pipkin was committed to Atascadero State Hospital for treatment as an MDO in accordance with Penal Code § 2962.

Prior to his parole period ending date, which was supposed to be October 2014, the District Attorney in Alameda County filed a petition to continue Pipkin's commitment as an MDO for an additional year.

However, while that was pending, Pipkin filed a petition under Prop 47 to have his grand theft conviction reduced to a misdemeanor. This was granted.
As a consequence, Pipkin filed a motion to dismiss the pending recommitment proceeding, arguing that further commitment as an MDO was not authorized given that his qualifying conviction be treated as a misdemeanor "for all purposes" as stated in Prop 47 (Penal Code § 1170.18(k)).

The trial court in Alameda County denied Pipkin's motion and Pipkin then appealed to the First Appellate District in San Francisco. In People v. Ralph Pipkin (2018 DJDAR 9990), the First Appellate District affirmed the trial court. It noted that in People v. Buycks (2018) 5 Cal.4th 857, 876, the California Supreme Court had interpreted Prop 47's "misdemeanor for all purposes" provision as having effect on any new collateral consequences imposed after a successful Prop 47 resentencing of a felony as a misdemeanor.
The Supreme Court further noted that the Fourth District, in People v. Goodrich (2017) 7 Cal.App.5th 699, 705-707, addressed this exact issue, concluding that re-designation of a qualifying offense as a misdemeanor pursuant to Prop 47 does not preclude recommitment as an MDO.
The court went on to comment that the first three of the six criteria for commitment as an MDO are considered "fluid," or that the subject can change over time to avoid commitment. The second three qualifying criteria, however, were static and not considered subject to change over time. Pipkin's appeal sought to change the sixth criteria for commitment, so it was not considered subject to revision.
Looking at Mr. Pipkin's situation, it then pointed out that his commitment to Atascadero State Hospital as an MDO was not a new collateral consequence of his prior felony conviction that qualified him for commitment proceedings. Moreover, he was committed to receive treatment for his mental disorder and to protect the public until the disorder could be kept in remission. Reducing a qualifying felony offense to a misdemeanor did not eliminate the mental disorder or the public safety concern.
The citation for the First Appellate District Court ruling discussed above is People v. Ralph Pipkin (1st App. Dist., 2018) 27 Cal.App.5th 1146.

For more information about being an MDO and the practical consequences of Prop 47 relief, please click on the following articles:
Contact us.