Does McCoy v. Louisiana Apply Retroactively?
In McCoy v. Louisiana (2018) 138 S. Ct. 1500, the United States Supreme Court held that a defendant's Sixth Amendment right to determine the objective of his defense is violated if counsel, counter to defendant's express instructions to maintain innocence, instead concedes guilt.

The holding is a difficult standard for defense counsel to meet, often when evidence is overwhelming that defendant is not innocent, but defendant believes maintaining his innocence will somehow appeal to juror sympathy, distrust of police or some other tactic that conflicts with a skeptical attorney's experience of what is prudent.

About This Article Briefly: The Sixth Amendment right of a defendant to determine the objective of his defense, as stated in McCoy v. Louisiana by the U.S. Supreme Court is 2018, is not considered a "watershed" rule of criminal procedure, so it is not retroactive.

The following case summary from a recent Ninth Circuit Court of Appeals ruling, Taryn Christian v. Todd Thomas (2020 DJDAR 13227) illustrates how this awkward tension can surface. It merits mention that since the ruling is from the Ninth Circuit Court of Appeals, its holding applies to California (Hawaii is within the Ninth Circuit).
In 1997, a jury in Hawaii convicted Taryn Christian of second degree murder of Vilmar Cabaccang. On the night of the murder, Cabaccang awoke to find an intruder inside his car parked outside his home.
After confronting and chasing away the intruder, Cabaccang caught and fought the knife-wielding stranger. Cabaccang's girlfriend helped in fighting the intruder, but Cabaccang was stabbed and would later die from the injuries. Police identified Taryn Christian as the suspect.
At trial, Christian maintained his innocence, insisting to his counsel that another man was the true killer. Christian even wrote a letter to his attorney, which memorialized their pretrial strategy discussion.
Christian's trial counsel, however, suggested Christian "not contest identification of himself, but instead [go with a theory of] self defense." Christian rejected the attorney's suggestion and insisted upon contesting identification.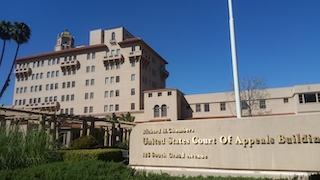 U.S. Ninth Circuit Court of Appeals Pasadena
At trial, Christian's attorney did contest identification according to his and Christian's strategy discussion. However, in closing arguments, Christian's attorney presented the jury with a theory of self-defense. He argued that if the evidence suggested Christian was the one who stabbed Cabaccang, it was done in self-defense and that Christian lacked the mental state required for second degree murder.
After Christian was convicted and was sentenced to a life sentence, he filed a first petition for writ of habeas corpus in 2010 (thirteen years after his conviction), arguing many grounds of ineffective assistance of counsel. The petition made its way to the Ninth Circuit Court of Appeals, which denied the petition.
After the McCoy v. Louisiana ruling was issued in 2018, Christian filed a second petition for writ of habeas corpus, arguing that McCoy should be applied retroactively, as his attorney effectively conceded guilty by arguing self-defense, and the court should find he was being illegally held in custody.
Procedurally, it should be noted for the reader that a second or successive (SOS) petition for writ of habeas corpus is generally not allowed. 28 U.S.C. § 2244. However, in this case and with the argument presented by Christian, the Ninth Circuit considered it permissible under 28 U.S.C. § 2244(b)(2) and (b)(3)(C); Henry v. Spearman (9th Cir. 2018) 899 F.3d 703, 705.
Turning then to whether McCoy may be applied retroactively (but without deciding the merits of Christian's claim that his attorney violated the Sixth Amendment), the Ninth Circuit noted that "[T]he Supreme Court can make a rule retroactive explicitly or through a combination of holdings that 'logically dictate' the new rule's retroactivity." Young v. Pfeifer (9th Cir., 2019) 933 F.3d 1123, 1125.
The Ninth Circuit further noted that the Supreme Court will not hold a new constitutional rule of criminal procedure to be retroactively applicable on collateral review unless it falls within two narrow exceptions. Teague v. Lane (1989) 489 U.S. 288, 310. The first is for substantive rules that proscribe the criminalization of particular individual conduct. Id. at 307.
The second exception:
Is for watershed rules of criminal procedure implicating the fundamental fairness and accuracy of the criminal proceeding. To fall within this exception, the new rule must meet two requirements: Infringement of the rule must seriously diminish the likelihood of obtaining an accurate conviction, and the rule must alter our understanding of the bedrock procedural elements essential to the fairness of a proceeding.

Tyler v. Cain (2001) 533 U.S. 656, at 665.
The Ninth Circuit then evaluated McCoy's new rule and found it was not explicitly made retroactive by the U.S. Supreme Court and no case since then has applied it retroactively.
The Ninth Circuit therefore decided McCoy was not retroactive and denied Christian's petition for writ of habeas corpus.

The citation for the U.S. Ninth Circuit Court of Appeals ruling discussed above is Taryn Christian v. Todd Thomas (9th Cir., 2021) 982 F 3d 1215.

For more information about procedural rules regarding a petition for writ of habeas corpus, please click on the following articles: