Does a DUI Affect DACA Eligibility? Immigration Bond?
A conviction for driving under the influence (DUI) of alcohol, either without or with drugs, can have rather significant immigration consequences even if just a first-time DUI with a relatively low blood alcohol content (BAC) and even with no accident or injuries to anyone else.
Summary in 50 Words or Less: A conviction for DUI bars one from eligibility for DACA. A conviction for DUI can also be grounds for denying a person in immigration detention awaiting removal proceedings an immigration bond.

While such a conviction under California law is not an automatic ground for removability, it is not an aggravated felony under federal law and it is not a crime of moral turpitude, this may change in the future. It is also not a conviction that makes one automatically inadmissible or deportable, it can under the alcoholic or drug abuse provisions.
However, such a conviction is a bar to Deferred Action for Childhood Arrivals (DACA) eligibility. Simply being charged with DUI can cause revocation of a non-immigrant visa.

A conviction for DUI can also be grounds for discretionary decisions as to whether a person will be released from immigration detention or on an immigration bond, or to whether the person is considered a person of good moral character.
For these reasons, generally speaking, a conviction for reckless driving (Vehicle Code § 23103, even under Vehicle Code § 23103.5 after being charged with DUI) is better than a DUI. Such a conviction is often called a "wet reckless" or "dry reckless." However, reckless driving causing injury (Vehicle Code § 23104) can be considered a crime of moral turpitude or even a crime of violence under immigration law.
When discussing admissibility, it is important to understand which classifications of people need to be considered admissible before evaluating whether a DUI conviction has an adverse effect. Undocumented persons, as well as lawful permanent residents (LPR's) who have a deportable conviction, can be subject to deportation unless they apply for and are granted some form of immigration status or benefit, such a refugee status, asylee status, an LPR through the Violence Against Women Act (VAWA) (as a victim).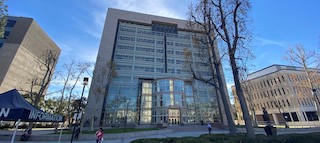 Van Nuys Courthouse
It is good to appreciate, further, that just being granted LPR status and thus being considered admissible is not really permanent, despite its name. A person can lose LPR status by being outside the United States for more than six months or by being convicted of a crime that voids LPR status, unless he or she is granted a waiver to forgive such events.
One can also lose admissibility by suffering two or more convictions of any type with a total sentence imposed (including suspended sentences) of five years or more. Immigration and Nationality Act (INA) § 237(a)(1)(A). These two or more offenses can be over one's lifetime. More than two or three DUI convictions may trigger this loss of admissibility.
A single DUI arrest (not even a conviction) can also cause a loss of admissibility under the physical or mental disorder ground. If the person is considered an alcoholic, this can be argued to be a mental or physical disorder under INA § 212(a)(1)(A)(iii)(I) -(II) and 8 U.S.C. § 1182(a)(1)(A)(iii)(I)-(II). This is because a person who is an alcoholic arguably is a current threat to oneself or others and thus inadmissible.
If the person charged with DUI is applying for permanent residency, the physical or mental disorder issue can be a problem. A single DUI arrest in the last five years, or two (or more) DUI arrests (not even convictions) in the last ten years will result in the permanent residency applicant being referred to a panel physician to determine whether the person is an alcoholic. This can be quite embarrassing. In response, the applicant can submit evidence to show that he or she never was, or least currently is not, an alcoholic who poses a threat to oneself or others.
The person should only be found inadmissible if an immigration panel physician or civil surgeon make findings that (1) there is a diagnosis of a mental disorder (alcohol abuse); and (2) there is current harmful behavior or a history of harmful behavior related to the disorder that is likely to recur in the future, either as DUI or domestic violence.
Lastly, if one is arrested, charged or convicted of DUI while under the influence of drugs (Vehicle Code § 23152(f) or driving while addicted to a drug (Vehicle Code § 23152(c)), a great deal of care must be exerted by the criminal defense attorney to avoid establishing the client as inadmissible as a controlled substance abuser.
A person is inadmissible if convicted of an offense involving a federally-defined controlled substance. INA § 212(a)(2)(A)(i)(II), 8 U.S.C. § 1182(a)(2)(A)(i)(II); INA § 237 (a)(2)(B)(i); 8 U.S.C. § 1227(a)(2)(B)(i) (deportability).
California Vehicle Code § 312 defines "drug" as any "substance or combination of substances, other than alcohol, which could so affect the nervous system, brain, or muscles of a person as to impair, to an appreciable degree, his ability to drive a vehicle." See also Byrd v. Municipal Court (3rd App. Ct., 1981) 125 Cal.App.3d 1054, 1058.
Therefore, we suggest that in sentencing a client on a DUI involving drugs, it is best to not specify the drug at issue at all, but just state that the drug at issue meets the definition under Vehicle Code § 312 and Byrd v. Municipal Court, which is a definition that is more broad than the federal standard and thus will avoid inadmissibility.