Court May Consider Facts Admitted as Basis of Prior Plea
In 1984, Lionel Scott pleaded guilty to third-degree assault in Minnesota. In so doing, he admitted on the record that he personally inflicted great bodily harm on another by touching hot iron to the face of another person, leading to a mark that was still visible four months later.

In 1999, he was convicted of six sex offenses in California and the San Diego Superior Court judge looked at the elements of the Minnesota offense and the plea colloquy in which Scott admitted to certain conduct. The judge did not look any further into the Minnesota conviction, i.e., at any disputed facts. The judge in San Diego determined that the Minnesota conviction was a "serious felony" and thus a prior strike offense under the Three Strikes law.

The judge then sentenced Scott to 75 years to life in state prison.

In a Nutshell: A judge, in evaluating whether a prior conviction from out of state qualifies as a prior conviction for an enhanced sentence, may not look into any disputed facts without violating the defendant's Sixth Amendment rights. It may only consider those facts which defendant admitted and that were necessary to the conviction.

In 2017, the California Supreme Court issued its ruling in People v. Gallardo (2017) 4 Cal.5th 120, in which it held that a sentencing "court considering whether to impose an increased sentence based on a prior qualifying conviction may not" – consistent with defendant's Sixth Amendment right to a jury trial – "make disputed findings about 'what a trial showed, or a plea proceeding revealed, about the defendant's underlying conduct." Gallardo, at 136.

Instead, Gallardo held, "the court's role is . . . limited to identifying those facts that were established by virtue of the conviction itself- that is, facts the jury was necessarily required to find to render a guilty verdict, or that the defendant admitted as the factual basis for a guilty plea."

In 2019, Scott then filed a petition for writ of habeas corpus, based on Gallardo. He did so despite the fact that he had provided admissions as the factual basis for his guilty plea in Minnesota and that the San Diego judge did not look beyond those facts that were established by virtue of the conviction. Scott boldly alleged that the San Diego judge violated the guidelines set forth by Gallardo by looking at disputed facts to find the third-degree assault conviction from Minnesota was a strike under California's Three Strikes law, resulting in his being wrongly imprisoned.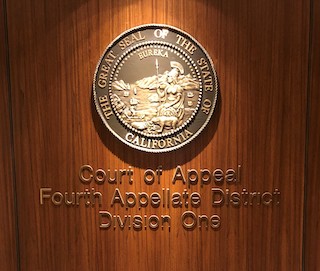 Fourth Appellate District Court of Appeal Div 1 San Diego
Perhaps Scott, being desperate for freedom and serving a 75 years to life sentence, was going to try anything to win his freedom, even if he knew Gallardo did not apply to him. Or, more likely, Scott had no idea how the San Diego judge determined his Minnesota prior was a strike. Or, lastly, maybe he just forgot and his attorney was not able to realize Gallardo did not help Scott.
The trial court judge in San Diego denied the petition, finding more fundamentally that Gallardo did not apply retroactively.
Scott then appealed to the Fourth Appellate District.

The Fourth Appellate District first evaluated whether the new standard set forth in Gallardo was procedural or substantive, as that matters whether the law can be applied retroactively. The appellate court concluded it was procedural insofar as it affects how a judge is to analyze a conviction from another state. Consequently, a new procedural rule "cannot be applied retroactively unless it qualifies under either the state or federal retroactivity standard." In re Brown (2020) 45 Cal.App.5th 699, 717 [holding, with one dissent that Gallardo is retroactive].
Under the federal test established in Teague v. Lane (1989) 489 U.S. 288, new procedural rules generally will apply retroactively only if they are "watershed" rules that "implicate the fundamental fairness and accuracy of the criminal proceeding." In re Milton (2019) 42 Cal.App.4th 977, at 989. "In order to qualify as a watershed, a new rule must meet two requirements. First, the rule must be necessary to prevent "an 'impermissibly large risk' "or an inaccurate conviction." Second, the rule must "alter our understanding of the bedrock procedural elements essential to the fairness of a proceeding." Milton, supra, at 994.
The Milton court found Gallardo was not a watershed rule of criminal procedure. Id.
The California state standard for retroactivity involves the court "weighing the purpose to be served by the new standards and particularly, whether they are intended to vindicate a right essential to the reliability of the factfinding process." Milton, supra, at 996. Milton also found that Gallardo did not apply retroactively under the state standard.
Therefore, the Fourth Appellate District agreed that Gallardo would not apply retroactively to the 1999 ruling by the San Diego County judge that the Minnesota conviction was a strike.
Moreover, the Fourth Appellate Court found that even if Gallardo did apply retroactively, the San Diego court judge only looked at the conviction itself and the admissions made by Scott, so there would be no change in the ruling anyways.
We bring this summary to the reader's attention because this is a common situation in some of the cases we handle: someone has a prior conviction from outside California and the California judge has to decide if the prior qualifies as a prior DUI, a prior strike, a prior conviction for domestic violence, etc.

The citation for the Fourth Appellate District Court ruling discussed above is In re Lionel Scott (4th App. Dist., 2020) Cal. App. 5th No other changes needed.

For more information about what a judge may consider in reviewing a prior conviction, please click on the following articles: