Conviction Reversed for Girlfriend's Tirade to Jury?
Why This Article Matters: A motion for a new trial based on a defendant's ex-girlfriend telling jurors outside the courtroom that defendant's character was poor will not be granted unless there is evidence that such improper contact raised a credible risk of affecting the outcome of the case.

While the following case went to trial in Montana and was later appealed before the United States District Court of Appeals for Ninth Circuit in Seattle, its holding covers motions for a new trial throughout the Ninth Circuit.
A federal jury in Montana convicted Benjamin Quinn McChesney on charges of theft and possession of stolen firearms.

Before the verdict, however, his ex-girlfriend, Krista McFarren, allegedly made comments about his "criminal past, bad character and willingness to do anything for money" that were heard by jurors. He was then convicted. None of the jurors reported the improper contact, nor did the court security officers who would have apparently been within earshot.

However, McChesney filed a motion for a new trial. The motion was supported with an affidavit from his co-defendant's mother, Julie Lennick, who swore she heard McFarren's "loud outburst" in front of "at least three jurors" as she was turning in her visitor badge in the courthouse lobby. "Perhaps sensing that the word of his co-defendant's mother might be taken with a grain of salt, McChesney also filed a request for courthouse surveillance videos that he said might have captured McFarren's tirade on film."
The district court judge who presided over his conviction denied his motion. McChesney then appealed to the Ninth Circuit Court of Appeals, which remanded the case back to the district court to conduct an evidentiary hearing into such facts.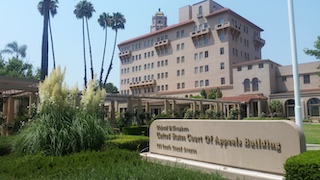 U.S. Ninth Circuit Court of Appeals Pasadena
The district court did so and found "no credible evidence" that jurors heard any derogatory remarks. It did so after sending all jurors a questionnaire to find out if anyone even heard the outburst from the ex-girlfriend. It also held an evidentiary hearing wherein five witnesses testified.
One of the witnesses was Ms. Lennick, who claimed she was "small-talking" with a juror when McFarren started talking about how McChesney "was a piece of shit and deserved to go to prison." Lennick claimed that McFarren was "really boisterous and loud" while "everyone" was in line to turn in their juror badges. Lennick claimed "everyone heard it, including the guys who were checking us out at the front door."

Another one of the witnesses was Lennick's daughter, Tana Romero, who largely confirmed the testimony of her mother.

However, two members of the court staff were also called to testify and they denied any such loud comments and even denied that Ms. Lennick's claim of riding down the elevator with certain jurors, with McFarren, would not have happened. The court staff stated that the jurors are escorted out of the jury room in a group and not allowed to mingle with the public as they leave, so they would not have been in an elevator with McFarren.
As mentioned, the district court denied the motion for new trial after the evidentiary hearing. McChesney then appealed again to the Ninth Circuit, this time in Seattle, which denied his second appeal.
The Ninth Circuit reviewed the evidentiary record developed by the district court in its evidentiary hearing for "clear error" although the motion for new trial is reviewed "de novo," meaning from the very start all over. United States v. Lopez-Martinez (9th Cir., 2008) 543, F.3d 590, 517, fn 4.

The Ninth Circuit reminded the reader of its opinion that defendant, in moving for a new trial, bears the initial burden of producing credible evidence to support the bare assertion that McFarren made improper statements to a juror. See Godoy v. Spearman (9th Cir., 2017) 861 F.3d 956, 967-968 ("The defendant must present evidence of a contact sufficiently improper as to raise a credible risk of affecting the outcome of the case."); Tarango v. McDaniel (9th Cir., 2017) 837 F.3d 936, 947 (explaining that "threadbare or speculative allegations" will not do the trick).
Here, the court staff's testimony rebutted the testimony of the mom of co-defendant and her daughter and the district court found the court staff's recollection more credible. Moreover, Lennick stated that McFarren was loud and boisterous the entire time, while her daughter described McFarren as speaking "in a normal, conversational tone" after exiting the elevator.
We present this summary to explain how a judge will consider evidence in an evidentiary hearing for new trial and emphasize that the evidence must be consistent and leave no doubt and not conflict with what court staff may say.

The citation for the Ninth Appellate District Court of Appeal ruling discussed above is United States v. Benjamin Quinn McChesney (9th Cir., 2017) 871 F. 3d 801.

For more information about courtroom conduct, please click on the following articles: