Client, Age 26, Brass Knuckles at LAX, Plea to Trespassing
Our client, while moving from Los Angeles back to his homeland of Istanbul, Turkey, was found to be carrying brass knuckles in his one carry-on bag, a daypack. As he went through the metal detectors to proceed to the loading area, LAX Airport Security asked him to identify the item. In response, he stated, "I didn't think I put them in there." The brass knuckles were not a paperweight or novelty item, i.e. painted pink and blue.
In the chaos of packing nine large bags with all his worldly belongings to move back home (the extra luggage fee alone was close to $3,000), he had not paid too much attention to what he put in his carry-on bag.
However, his admission of knowing he had such an illegal item was sufficient for the Los Angeles City Attorneys to file a criminal complaint against our client for violation of California Penal Code § 21810 ("Illegal possession of brass knuckles").
The stereotype of someone who might have brass knuckles for use did not fit with our client. Our client had earned his bachelor's degree from Cornell University, an Ivy League school, and his MBA from the University of California at Berkeley. He had no prior criminal history.
After LAX Airport Security discovered the item, LAX Airport Police came to the scene and issued our client a written ticket with an arraignment date about two months later. Our client signed a promise to appear in the LAX Airport Courthouse on La Cienega and was allowed to board his flight back to Turkey.
Once in Turkey, he contacted Greg Hill & Associates and asked what we could do to help him. He described what had happened to him and spoke to Greg Hill. Greg explained how such cases are viewed quite seriously because of terrorism at our airports and the case may be prosecuted with real vigor. However, Greg acknowledged the client's educational background and lack of any prior record, which suggested he had no intent to use such a weapon on board the plane. Moreover, it would not make sense for him to do so because he had checked in nine large bags on the same flight. He was not just boarding the flight to be on it to hijack the plane. He was using it to move back to Turkey.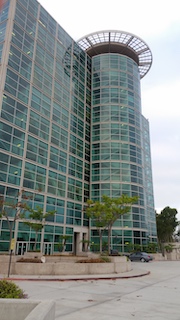 Airport Courthouse
Greg nonetheless sought an office hearing for the client, writing the Los Angeles City Attorney's Office well before the arraignment date. In his letter, he enclosed the client's resume and stated that the client had no knowledge that the brass knuckles were in his carry-on bag.

Unfortunately, the Los Angeles City Attorney's Office did file the complaint against our client. Greg found this out when he appeared in court on the client's behalf. The initial offer for the client was that he plea no contest to possession of brass knuckles, be placed on three years of informal, or summary probation, and serve 60 days in county jail. This was ridiculous and Greg said so much to the prosecutor, but using different words and also explained that our client was no longer living in the United States.

The prosecutor responded that he could modify the jail term to sixty days of community service, but he otherwise could not go too lightly because our client was 26 years old and, according to the police report, the brass knuckles were in the middle area of his back pack. This suggested he wanted to conceal them, but have them easy to pull out (as compared to being in the bottom of his carry-on luggage).

Furthermore, he did not deny possessing the brass knuckles, only commenting that the did not think they were in his bag. In other words, he did not claim no knowledge that they were there at all.
Over the next three months, Greg had many conversations with the Los Angeles City Attorney and eventually persuaded him to amend the complaint to allege trespassing and that our client could plea to trespassing instead, with 18 months of informal probation and an obligation to perform 20 days of community service in Istanbul.
This was still a very rough offer, but the alternative was trial. Our client agreed, reluctantly, to plea to trespassing, knowing it was better than pleading to possession of brass knuckles.
We present this case summary as a cautionary tale that possession of brass knuckles cases at an airport are viewed very seriously if the client is not extremely young or the brass knuckles are positioned in a readily-accessible place in one's luggage. Here, our client even admitted to knowledge of having such an illegal item. When all these items combine, it can be very difficult to resolve the case on agreeable terms.

For more information about the issues in this case summary, please click on the following articles: