Certificate of Rehabilitation for Parolees & Probationers
Those who have served time in state prison cannot have the underlying conviction(s) "expunged" under Penal Code § 1203.4. In contrast, most felony probationers (there are some exceptions) can have their convictions expunged under Penal Code § 1203.4. Instead, most former prisoners can seek relief from the effects of their conviction under Penal Code § 4852.01, the section dealing with a certificate of rehabilitation.

However, those who successfully complete felony probation and obtain 1203.4 relief, face what seems to be more difficult eligibility criteria than parolees when considered for a certificate of rehabilitation.

Indeed, if the former felony probationer receives 1203.4 relief and is then incarcerated, that person is ineligible for a certificate of rehabilitation. Section 4852.01(b) precludes former probationers who later become imprisoned from relief.
In contrast, former prisoners who return to incarceration face no such bars to receiving a certificate of rehabilitation. Some may say the former prisoners are paradoxically given preferential treatment despite their more serious criminal history and that this is unfair.
In a Nutshell: Penal Code § 4852.01(b) precludes former felony probationers who then are imprisoned on a probation violation or on another case (even a misdemeanor!) from applying for a certificate of rehabilitation (COR), which we think is unfair because former prisoners who never had probation but find themselves in prison again are eligible to apply for a COR.

Jody Chatman experienced this disparate treatment the hard way. He was convicted of robbery in 2001 and was sentenced to five years of felony probation. Two years later, he was convicted of a "wet reckless" under Vehicle Code § 23103. In 2006, he had the wet reckless "expunged" under Penal Code § 1203.4. In 2007, he also had the robbery conviction expunged under 1203.4.
In 2008, he was convicted of misdemeanor DUI (Vehicle Code § 23152(b)) and sentenced to three years of probation and ten days of imprisonment in county jail.
In 2014, he was offered a job that required a state license as a community care licensee from the California Department of Social Services. His conviction for robbery was a bar to such a license, generally, but the Department of Social Services told him they would grant an exception for him if he received a certificate of rehabilitation under Penal Code § 4852.01.
Chatman then filed for such a certificate of rehabilitation and was denied by the trial court. Chatman then appealed this to Court of Appeal, claiming § 4852.01 was unconstitutional in barring relief from those who have had their convictions expunged. The Court of Appeal then reversed the ruling and the District Attorney appealed to the California Supreme Court.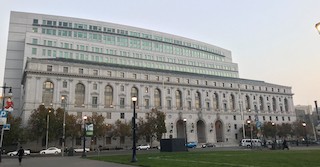 CA Supreme Court San Francisco
The California Supreme Court, in People v. Jody Chatman (2018 DJDAR 1136), took up the appeal. The Supreme Court began by noting that the legislation allowing a certificate of rehabilitation was enacted after World War II as an emergency measure in response to the governor being inundated with pardon requests by many seeking to serve in the military or in defense industry jobs, but who were barred due to their felony records.
The certificate of rehabilitation relieved pressure by allowing felons to seek a pardon through which the merits of a particular application could be adjudicated by a judge so that the Governor could, without any further investigation, issue a pardon.

Turning to the bar on former probationers who are later imprisoned from obtaining a certificate of rehabilitation, the Supreme Court noted that the challenged law neither made the disparate treatment based on a suspect classification (race, gender, etc.) nor did it burden a fundamental right (freedom of speech, i.e.). Therefore, the court had to consider whether the equal protection challenge by Chatman had no rational basis between disparate treatment and a legitimate government purpose. People v. Turnage (2012) 55 Cal.4th 62, 74. If there was no rational basis, the disparate treatment was unconstitutional.
However, the Supreme Court found that the disparate treatment had a rational basis for a legitimate governmental purpose. The legislature enacted a more restrictive scheme to govern former probationers seeking certificates of rehabilitation to reduce the administrative burden on governmental resources necessary to adjudicate eligibility for a certificate of rehabilitation. The legislature could have rationally determined to limit eligibility to only those with the highest relative need and to those who showed the highest promise for rehabilitation – those prisoners and former probationers not subsequently incarcerated. Moreover, the number of former probationers outnumbers the number of former prisoners and thus, if allowed to apply for such certificates of rehabilitation, it would overburden governmental resources. Thus the restriction in 4852.01 served a legitimate governmental interest and was rationally related to that interest.
The citation for the California Supreme Court ruling discussed above is People v. Jody Chatman (2018) 4 Cal.5th 277.

Contact us.