Certificate of Rehabilitation in CA for Michigan Sex Crime?
The burdens of having a conviction of any sort, but a sex offense in particular, are far greater than most people appreciate. Therefore, it is not surprising that the creativity shown by some to remove such burdens is equally, if not more so, great.
The Gist of this Article: A court in California cannot issue a certificate of rehabilitation for an offense that takes place outside California, i.e. Michigan, because the next step after a certificate of rehabilitation is a pardon and the California governor cannot pardon someone for an offense taking place outside California.

The following case involves a gentleman from Michigan who was convicted of criminal conduct in the second degree there, which had the consequence of requiring him to register for life as a sex offender. The offense in question involved sexual conduct with a juvenile more than 13 years old, but less than 16 years old, where the actor is related by blood to the victim (his biological daughter or biological son).
George Joe Faranso applied for a certificate of rehabilitation in Riverside County, California, for his Michigan conviction. The Riverside judge granted the petition and the People appealed the ruling.
To fully understand the appeal and then how the Fourth Appellate District ruled in
People v. Faranso
(2015 DJDAR 10575), it is good to first take a few steps back.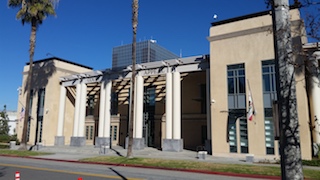 4th Appellate District Division 2 Riverside
A certification of rehabilitation is a recommendation to the Governor to pardon a convicted felon and restore the civil and political rights of citizenship that had been removed or limited by the felony conviction. Penal Code § 4852.13. The Governor can then grant the pardon without any further investigation unless that person has been convicted of a felony twice. Penal Code § 4852.16.
The certificate is available only to felons who have completed their sentences and an extended period of rehabilitation, and who have resided in California for not less than five years immediately preceding the filing of the petition. Penal Code §§ 4852.01(c), 4852.03, 4852.06.
There are limits, particularly in the sex offense area. A person convicted of an offense specified in Penal Code § 290 requiring sex offender registration may not file a petition unless the conviction has been dismissed under Penal Code § 1203.4, which is commonly called expungement. This limitation is set forth at Penal Code § 4852.01. This is significant because a great portion of sex offenses requiring registration under Penal Code § 290 are barred from eligibility for 1203.4 relief anyways.
It merits mention that someone who does receive a certificate of rehabilitation for certain sex offenses involving minors (Penal Code §§ 286(c), 288, 288a(c), 288.5 and 289(j)) must still continue to register as a sex offender. Only a pardon from the Governor will lift that requirement. For other sex offenses, a certificate of rehabilitation will lift the duty to register.
It also is important to know that someone convicted of a registrable sex offense under § 290 which is ineligible for expungement can still apply for a direct pardon.
When Mr. Faranso applied for a certificate of rehabilitation in California, the prosecutor tasked to respond to the petition was puzzled. No published decision by any court in California had ruled on whether this was possible.
On one hand, crimes against the laws of any states can only be prosecuted and pardoned by the sovereign authority of that state.
Huntington v. Attrill
(1892) 146 U.S. 657, 667. The courts of one state will not enforce the penal laws of another.
Robertson v. Baldwin
(1897) 165 U.S. 278, 278. Therefore, a person cannot be arrested and prosecuted in California for a crime committed in Michigan. A state will only entertain a criminal proceeding to enforce its own laws and will not enforce the laws of another state.
However, if a person is ineligible for a pardon in California because his conviction was sustained in another state, it seems the person should similarly be ineligible for a certificate of rehabilitation in California.
Turning back to Faranso's case and the People's appeal of the Riverside County judge's granting of the petition, the Fourth Appellate District granted the appeal and reversed the judgment on two grounds.
First, it agreed that if the Governor cannot issue a pardon for an offense committed under the laws of another state, a judge in California similarly does not have the power to grant a certificate of rehabilitation for someone with an out-of-state conviction.
Second, more specifically, Faranso's conviction was for an offense that most closely resembled a crime defined under California Penal Code § 288a. This offense is ineligible for a certificate of rehabilitation and Faranso did not obtain a dismissal of the charges, as would otherwise make his crime eligible if it were an expunged California offense. Faranso simply was not eligible even if his conviction had been suffered in California for the conduct at issue.
Accordingly, the Appellate Court ordered that the trial court in Riverside County reverse the judgment.
The citation for the Fourth Appellate District Court ruling discussed above is People v. Faranso (4th App. Dist., 2015) 240 Cal.App.4th 456.

For more information about a certificate of rehabilitation, click on the following articles:
For more information about sex offenses, please watch our sex offenses video by clicking
here
.
Contact us.