Can There Be Residential Burglary of an Uninhabited House?
Under Penal Code § 460, every burglary of an inhabited dwelling is first degree burglary. Burglary of a structure that is not an "inhabited dwelling house" is second degree burglary.
Without All the Details, What Happened?: First degree burglary conviction upheld when realtor's wallet is stolen in an uninhabited house.

On June 27, 2010, realtor Janice Konkol was conducting an open house of a home in Irvine. Rodney Little and his girlfriend walked into the house. Little's girlfriend engaged the realtor in conversation while Little took the realtor's wallet, with credit cards, from her purse. Little and his girlfriend then left the open house and Little used the credit card a short while later.
The realtor then noticed her wallet was missing, called the police and Little was arrested.
Little was then charged with and convicted of first degree residential burglary (Penal Code §§ 459 and 460) and fraudulent use of an access card (Penal Code § 484 g). Due to prior convictions and other sentencing enhancements, Little was sentenced to 21 years, four months in state prison.
Little appealed his conviction, saying that he could not be convicted of first degree residential burglary because the owners of the home were not present during burglary. Therefore, he argued, as a matter of law, he could not violate Penal Code sections 459 and 460.
The Fourth Appellate District, in
People v. Rodney Lepeic Little
(2012 DJDAR 7965), soundly rejected Little's appeal. It noticed immediately that Penal Code § 459 states, "as used in this chapter, inhibited means currently being used for dwelling purposes, whether occupied or not."
Little argued that when the open house was being held, the house for being used for commercial, not residential, purposes. Therefore, it was not residential burglary. He cited
People v. Rodriquez
(2004) 12 Cal. App. 4th 121, which states "Burglary of a structure that is not an inhabited dwelling is burglary of the second degree."
Little further pointed out the distinction between burglary taking place when occupants are in the residence and his case by further quoting Rodriguez: "Burglary of business premises, even though such premises might have people in them, is not burglary of the first degree because it does not carry the peculiar risks of violence and resulting injury which inhere in the burglary of a home." Id. at 132-133.
The Fourth Appellate District disagreed. Noting that there was no dispute that the owners of the home still lived there, the appellate court characterized the owner's absence as temporary. Moreover, "it has never been held that a person loses his residence by reason of a brief absence from the house where he lives. "
People v. Marquez
(1983) 143 Cal. App. 3d 797, 802.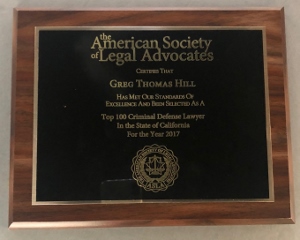 In short, the Appellate Court found that the residence was still a residence and there was no suggestion that the home owner's intended to abandon it. Furthermore, to adopt Little's position, the court commented, would create the unintended consequence that if one worked out of one's home and the house was burglarized, it would always be second degree burglary or the court would have to engage in an analysis of whether the burglary happened while the homeowner was working. Likewise, if a gardener or maid were on the premises of any home while the homeowner was away, it would be second degree burglary, which would clearly be wrong.
For more information about burglary, click on the following articles:
Restitution Order Can Apply to One Who Receives Stolen Property, but Does Not Participate in Burglary
Contact
Greg Hill & Associates