Can Restitution Be for Victims Not Named in the Complaint?
Outside Lancaster, California, Rick Allen Walker drove his pick-up truck onto the 14 Freeway in the wrong direction. He used an off ramp as an on ramp.
At the time, Walker was drunk-and high on methamphetamine. He hit one car, which then collided with seven more cars. Walker, in other words, caused a nine car pile-up. In doing this, nine people were injured.
In a Nutshell: A judge can order a defendant to pay restitution to victims who were not named as victims in the complaint because the Penal Code addressing restitution does not limit restitution payment to named victims in the complaint.

The criminal complaint in Los Angeles Superior Court in Lancaster named four victims. Walker was charged with four counts of violating Vehicle Code § 23153, DUI causing injury. Prior to the preliminary hearing, he entered into a plea bargain wherein he agreed to a six year term in state prison, three of which were stayed.
Judge Michael J. O'Gara ordered Walker to pay restitution to four people, two of which were not named as victims in the complaint. Walker, however, conceded that the two not named in the complaint (Pauley and Hatfield) were involved in the accident he caused.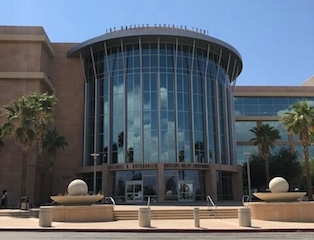 Lancaster Courthouse
Walker appealed the restitution order, arguing that the trial court exceeded its authority to impose restitution because the order included payments to people for crimes of which he was not convicted.
Walker's appeal was filed in the Second Appellate District. In its ruling, in
People v. Rick Allen Walker
(2014 DJDAR 15811), the appellate court noted at the outset that Walker's argument raised a question of law and thus the standard was de novo review.
People v. Martinez
(2014) 226 Cal. App. 759, 765.
The California Supreme Court has addressed the issue of DUI with injury when more than one person is injured. It has said that the number of violations of Vehicle Code § 23153 depends upon the number of "instances of drunk driving, which is assessed by examining what happened in the underlying accident."
Wilkoff v. Superior Court
(1985) 38 Cal. 3d 345, 349. It then evaluated the situation where a driver collides with one car and then, as in Walker's case, there are more collisions that result from the initial collision. Under these circumstances, the court decided it still involves just "one volitional act of driving," and consequently, "one violation of section 23153."
Wilkoff
,
supra
, p. 349, fm. 4.
In Walker's case, no one, including Walker, asked the court or argued that the accident was anything but a single incident. Therefore, there was anything but a single incident. Therefore, there was one act and Walker pleaded no contest to committing it.
Turning next to whether the judge exceeded his power in ordering that Walker pay restitution to two people not named on the complaint, the appellate found the omission of such victim names "irrelevant." The appellate court pointed out that Penal Code § 1202.4, which addresses restitution, imposes no duty to name each victim on the complaint.
The court commented that "imposing such a duty would make a victim's entitlement to restitution turn on the happenstance of whether the prosecutor located or named that victim before the defendant pled or was convicted. Such absurd results are to be avoided."
People v. Levin
(2013) 56 Cal. 4th 498, 506-507.
Walker had argued, however, that Vehicle Code § 23558 requires victims to be named. The court distinguished § 23558 from a charging allegation, saying § 23558 is a penalty provision and does not change the definition of the underlying crime it enhances. This section only deals with the result of the conduct, not the conduct itself.
Accordingly, the appellate court held that the trial court could impose restitution for all victims of a single incident of DUI.
As a separate issue in his appeal, Walker argued that the trial court judge in Lancaster made a mistake in staying three years of the sentence on three of the DUI causing injury convictions rather than dismissing them. The appellate court agreed with Walker on this argument and ordered that the trial court dismiss such counts. This shortened his prison term to three years.
The citation for the Second Appellate District Court ruling discussed above is People v. Rick Allen Walker (2d App. Dist., 2014) 231 Cal.App.4th 1270.

For more information about restitution in general, click on the following articles:
Contact us.