Can Conduct in Custody Count under PC 1203.4a(a)?
As the reader of this article may already know, for one to be eligible for expungement of a conviction for an infraction or a misdemeanor wherein the person serves time in lieu of probation, that person must show that he or she has "led an honest and upright life." This generally means that the individual has obeyed all laws, worked, paid taxes and perhaps volunteered in the community as an "honest and upright" person would live his or her life.
Brief Synopsis: How one behaves in custody may be considered by a judge as evidence of leading an "honest and upright" life as required under Penal Code § 1203.4a(a) for expungement of an infraction or a misdemeanor where one served time in custody in lieu of probation.

However, if one is in prison or jail for another offense, can a judge find that petitioner lived an honest and upright life behind bars, separated from the temptations and opportunities to commit crime that are available outside jail or prison, just because the person in custody behaved according to the institution's rules? Is that leading "an honest and upright life?"
The California Supreme Court has weighed in on this issue in the case of People v. Misael Vences Maya.
Mr. Maya pleaded guilty in Ventura County Superior Court to misdemeanor DUI and felony possession of a controlled substance. The trial court judge sentenced him to prison without probation. Maya then completed his prison term in 2012 and has been in federal immigration custody ever since (into 2020).

While in federal immigration custody, Maya successfully moved to have his felony possession conviction reduced to a misdemeanor under Proposition 47 (Penal Code § 1170.18(f)).
He then sought expungement of the misdemeanor DUI under Penal Code § 1203.4a(a). In his petition, he submitted that he had obeyed all laws and lived "an honest and upright life." He also explained that he had participated in fire camp and attended Alcoholics Anonymous meetings.

The district attorney in Ventura County opposed the petition, arguing that there has not been a period in which Maya was out of custody since the conviction, so there had not been a meaningful time to evaluate if he led an honest and upright life. He bluntly argued that being in custody for a substantial period of time is not leading an honest and upright life.
The Ventura County judge ruling on the petition denied it, commenting that there has been no opportunity for the court or probation to evaluate if Maya would lead a law-abiding life out of custody.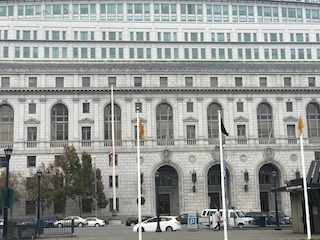 CA Supreme Court San Francisco
Maya then appealed to the Fourth Appellate District, which affirmed the trial court, rejecting the premise that a trial court considering an expungement motion may consider custodial behavior in assessing "an honest and upright life." People v. Maya (2019) 33 Cal.App.5th 266, 270.
Maya then appealed to the California Supreme Court, which reversed both the trial court and the Fourth Appellate District Court of Appeals.

The Supreme Court began its analysis by noting that nothing in the text, structure or purpose of 1203.4a(a) categorically forbids a trial court from considering a petitioner's conduct while in custody, including immigration custody in evaluating whether an individual has led an honest and upright life.
The Supreme Court, in fact, interpreted 1203.4a(a) as "strongly suggesting" that a judge may consider a defendant's behavior in custody when evaluating whether defendant lived an honest and upright life since the pronouncement of judgment, not since the date of release from custody or anything like that.
If time in custody were ignored as irrelevant, then misdemeanants sentenced to longer than one year in custody after shorter periods of honest and upright living because one could apply one year after judgement is entered. For example, if one was sentenced to 180 days and served 75 days, then one would be able to apply 290 days after being released and only have to live an honest and upright life for 290 days. This did not make sense, the Supreme Court reasoned.
Moreover, the Supreme Court believed the Legislature wanted to encourage prisoners to behave in custody, not just once released.

Therefore, the Supreme Court reversed the judgement of the Court of Appeal and remanded the case for further proceedings consistent with its ruling.
We think this is a good ruling, not only for our clients, but also because it removes a general understanding that time in custody cannot be evaluated for living an honest and upright life. We also agree with the Supreme Court's reasoning.

The citation for the California Supreme Court ruling discussed above is People v. Misael Vences Maya (2020) 9 Cal.5th 239, 260 Cal. Rptr. 3d 840, 460 P. 3d 1216.

For more information about expungement, please click on the following articles: