Can a Criminal Defendant Request New Counsel Anytime?
The rhetorical question posed by the title to this article suggests the answer is no, but begs the further question of when may a criminal defendant be denied the right to new counsel of his or her choice?

Brief Synopsis: Generally speaking, a judge is supposed to honor a criminal defendant's wish to have counsel of his or her choice, which suggests that such counsel would be effective counsel, to replace current counsel, which strongly implies that current counsel is ineffective.
However, a judge may deny such a request if such a change in counsel would cause undue delay in proceedings, i.e. during trial.
The recent reported decision of People v. Gabriel Lopez (2018 DJDAR 3179), decided April 11, 2018, confirms that under the Sixth Amendment to the United States Constitution, the right to retained counsel of choice is generally guaranteed. In California, this right "reflects not only a defendant's choice of a particular attorney, but also his or her decision to discharge an attorney who he or she hired but no longer wishes to retain." People v. Verdugo (2010) 50 Cal.4th 263, 310-311.
Put another way, a defendant is entitled to discharge retained counsel "with or without cause" because "the right to discharge retained counsel is based on necessity in view of both the delicate and confidential nature of the relation between [attorney and client] and of the evil engendered by friction or distrust." People v. Ortiz (1990) 51 Cal.3d 975, 983.
The right to retained counsel, however, is not absolute. Verdugo, supra at 311. A trial court may deny a request to discharge retained counsel "if discharge will result in significant prejudice to the defendant or if it is not timely, i.e., it will result in disruption or the orderly process of justice." Ortiz, supra, at 983. The "disruption" can be the problems changing counsel creates for the prosecution in "assembling the witnesses, lawyers and jurors at the same place at the same time." Ortiz, supra, pp. 983-984.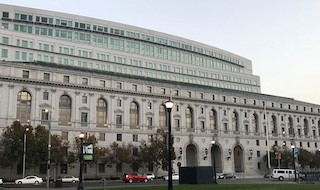 Court of Appeal First Appellate District San Francisco
These principles were put to the test in the recent Gabriel Lopez case. Lopez began dating a woman in 2010 in Napa County. The woman was a mother of a sixteen-year-old daughter and a ten-year-old daughter. Both daughters told their mother than Mr. Lopez had molested them and the mother reported this to the Napa Police Department. Lopez was then arrested after he admitted to doing such things during a pretext call from each daughter.
Later than month, the Napa County District Attorney's office filed a complaint against Lopez, alleging nine felony counts, including forcible rape, sexual penetration with a foreign object, forcible oral copulation, forcible lewd acts, etc.
Lopez was at first appointed a public defender, but thereafter retained private counsel. The case went on for over a year with trial being continued three times. The trial was eventually set for mid-January, 2016. On January 8, 2016, Lopez advised the court that he wanted to either retain new counsel or have counsel appointed. He said he needed more time to think about the offer and discuss it with counsel, but his current counsel had difficulty communicating with him (Spanish was not counsel's native language, but it was for Lopez, so an interpreter was always required). At this point, January 8, 2016, the prosecution had not sent out subpoenas for witnesses for trial.
The trial court judge denied the request and Lopez entered a plea that sent him to state prison for 35 years to life.
In May, 2016, Lopez appealed the trial court's denial of his right to have counsel of his choice. The First Appellate District agreed with Lopez, noting that Lopez did not have an improper motive to delay trial and to the contrary, seemed to need more time to contemplate the plea bargain being offered. Moreover, the trial court did not make its ruling with any analysis of whether justice would be unjustifiably delayed by granting him the right to new counsel, which the appellate court hinted may have affected the appeal.
Therefore, the plea was ordered withdrawn and the case was sent back to the trial court with instructions for it to allow Mr. Lopez to substitute in counsel of his choice forthwith.
The citation for the First Appellate District Court ruling discussed above is People v. Gabriel Lopez (1st App. Dist., 2018) 22 Cal.App.5th 40.

For more information about attorney issues, please click on the following articles:
Contact us.