Beverly Hills, Shoplifting at Trader Joe's, Case Dismissed
Our client was arrested for shoplifting two bottles of wine from a well-known grocery store in the Beverly Hills area. She was 25 years old, with no prior record, and had a promising career in fashion before her. She was a college graduate. The value of the two bottles of wine was just over $50. She was caught red-handed, as the saying goes, by loss prevention officers who observed her placing the wine bottles in her purse and attempting to walk out of the store.
At the time, she was with her new boyfriend, heading to a company Christmas party. The two were intending on making the wine a gift to the party host.
In a Nutshell: In this 2010 case, our office successfully had the Beverly Hills judge dismiss the case through a motion for civil compromise. The client had shoplifted two bottles of wine worth just over $50 from Trader Joe's.

As mentioned above, a loss prevention officer walking the store floor allegedly spotted our client trying to steal the wine bottles. We found this quite remarkable because our office knows that this particular store has no store security video cameras in any of its stores, allegedly because it respects the privacy of its devoted shoppers.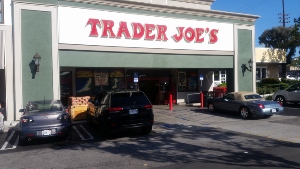 Loss prevention officers then notified the Beverly Hills Police Department, which came to the store and issued our client a ticket, merely asking her to sign a promise to appear in the Beverly Hills courthouse at a later date in about two months.
The client then proceeded to the party and about two weeks later, hired Greg Hill & Associates.
In this case, which took place about 2010, the Beverly Hills District Attorney would not agree to a reduction of charges to an infraction under Penal Code § 490.1, as the items stolen were not for the "necessities of life." We found this refusal a bit silly, as the items were food related. They were consumable.
The charge of violating Penal Code § 484(a) ("petty theft") and a plea bargain thereto was extremely problematic for our client, as in her field, a conviction involving a crime of dishonesty is a career ender. She had a professional license from the State of California and any conviction had to be immediately reported.
She knew that such a report from her to the licensing board would immediately result in the suspension of her license. While the license indeed would eventually be reinstated, the time off of work would be problematic and expensive for her (certainly not worth $50 in wine, had she succeeded in stealing the wine). She would have to prove rehabilitation to the licensing board and such rehabilitation could not start until she first finished probation with the court.
The initial offer from the district attorney was a $300 fine, plus penalties and assessments (this would total approximately $1,300), twenty-four months of informal, or summary, probation and a stay away order from any stores in the chain of stores where the incident occurred. Our client would also have to pay the booking fee, which was close to $400.
Our office worked closely with the store where the incident occurred and negotiated an agreement wherein the store agreed to sign a declaration that stated that it was not desirous of further criminal prosecution in exchange for our client's payment of certain investigation costs, also called loss prevention expenses, that the store allegedly incurred in connection with its loss prevention department operations related to the theft.
The client then paid such expenses and the store signed the declaration.
Our office then filed a Motion for Civil Compromise under Penal Code sections 1377 and 1378, which the judge granted over the District Attorney's strenuous objections. The case was dismissed in its entirety.
It merits mention that such a declaration from any store is very hard to obtain in most cases. Larger stores, especially "big box" retailers and grocery store chains, do not want thieves to feel they "got away" with anything by paying a loss prevention bill as the "cost of doing business." The stores nowadays clearly want to "send a message" that shoplifting is simply never tolerated in their store. Studies have apparently been conducted that show such a zero tolerance, tough approach is wise.
For more information about the issues in this theft offense case summary, click on the following articles:
For more information about theft and robbery crimes, please click
here
to watch our theft offenses video.
Contact us.