Battery on Brother's Girlfriend, RPV, Office Hearing
Our client, age 30, was living at her parent's home in Rancho Palos Verdes after losing her job and having to move out of her Hermosa Beach apartment.

She was ambitious, however, and was using the time to study to become a state-licensed California real estate salesperson, one step toward become a license realtor or real estate agent.

Then Covid-19 hit and her brother also lost his job, also moving back home – with his girlfriend, who our client just disliked in every way. The family home was packed with young adults, all frustrated and unemployed. Alcohol became a refuge for all, especially our client.
One evening, after a few drinks, our client became angry at her brother's girlfriend and decided to just let her fists do the talking. She started with a shove to the girlfriend in her brother's room and our client's brother quickly intervened, who our client then punched and kicked a few times.
The Lomita Sheriffs were called to the home and our client was arrested for battery (Penal Code § 242) on both her brother and his girlfriend. Photographs were taken of scratches to her brother's arms our client caused and bruises to the arms of her brother's girlfriend. Police recognized that our client was extremely drunk and so they had her spend the night at the Lomita Sheriff's station on Narbonne. This also had the effect of letting things cool down at home.
When our client was release on her own recognizance (no bail during Covid-19), she signed a promise to appear in the Torrance Courthouse in about eight weeks.

When our client returned to her parent's home, her brother's girlfriend had already packed up her things and left the home, driving back to Utah to live with her parents again. This angered our client's brother, but he sympathized with his girlfriend.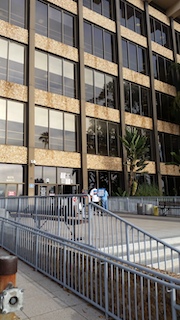 Torrance Courthouse
The client then called Greg Hill & Associates and spoke with Greg. She first explained the facts of the case and commented she was confident her brother would sign a declaration that he was not interested in prosecution of his sister. The client mentioned that she was keen to start a career in real estate and had been studying hard to take the real estate salesperson licensing exam, so she was under a great deal of stress from that, as well as just being stuck in a house 24 hours per day, seven days per week with the same people, one of whom grated on her nerves constantly (her brother's girlfriend).
Greg explained how he hoped to resolve the case: through an office hearing. He described how the Torrance District Attorney's office would handle the matter since it arose in Rancho Palos Verdes and that the DA's office had increasingly been referring matters to office hearings.
He then met with the client and her father at the office and described further to the client's father the plan, as well as what may take place if his daughter was prosecuted for battery.

Greg requested the client's resume, proof of enrolling in an anger management program and the client's results from the real estate salesperson exam, which were due any day because she had since taken the exam.

The results then were announced and our client had passed, which made her quite happy, but even more concerned that her potential new career would be wiped away with a conviction for battery and being on probation.

Greg then wrote a concise letter to the Torrance District Attorney's office, explaining that an office hearing would be the most appropriate way to resolve this case because one victim, our client's brother, was not interested in prosecution, and the other victim was outside subpoena range. Moreover, our client had just passed the real estate salesperson exam and even had two interviews arranged already to begin work.
Amazingly, the Torrance District Attorney's Office agreed and set an office hearing about six weeks later. Greg advised the client of this great news, which made her (and her father) very happy.

For more information about battery, an office hearing and the CARE Act, please click on the following articles: