Avalon, Attorney, Possession of Cocaine, Diversion
About This Summary Briefly: Our client, an attorney from Hawaii vacationing in Avalon, is caught with cocaine. The client was on probation for a DUI in Hawaii at the time. Case resolved for the client attending 52 NA meetings for a dismissal.

Our client, age 32, went to Catalina for a short vacation. She had heard about Avalon and read about the tours to see the buffalo, the cozy beach-front bars and the historic casino. She had been under a lot of stress as an attorney in Honolulu, especially because she had just been convicted of DUI and was placed on probation, which caused her anxiety about her future as a lawyer.
She went on vacation alone, so she was keen to meet people in Avalon. She had developed a dependence on cocaine, so she always carried a small amount in her purse just in case she felt the need for its use.
On a warm summer afternoon, as the sun was almost setting, she walked out to the casino on the point in Avalon and began a conversation with a man about her age. He explained that he lived in Avalon and told her how boring it was.
As the two were talking, Avalon Sheriffs walked by, recognizing the man as a local and someone who was wanted on several arrest warrants. The sheriff then called in for more sheriffs to assist him. Once the other sheriffs arrived, they arrested the man without any problems. The warrants were for sales of controlled substance cases.
The police then questioned our client about who she was and if she was on probation. Our client was wearing a short skirt and a tight-fitting shirt, suggesting she was going out for the evening, perhaps to a local bar or restaurant. Our client identified herself and stated she was on probation for a DUI.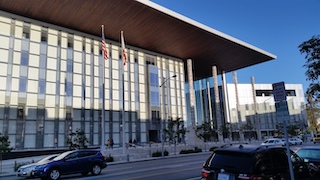 Long Beach Courthouse
Upon hearing that our client was on probation and suspecting that she may have drugs on her, due to her associating with a known drug dealer, the sheriffs asked to look in her small backpack that she was using as a purse. Our client consented. In the backpack, the sheriffs found 0.7653 grams of a white substance in a small baggie. Upon showing this to our client and asking her if it was cocaine, our client said, "I'd like to assert my right to remain silent."
Indeed, upon finding this packet, law enforcement probably should have read our client her rights under
Miranda v. Arizona
(1966) 384 U.S. 436, 86 S. Ct.1602,16 L. Ed. 2d 694, although she certainly was not in custody, but it was reasonable to her that she was not free to leave.
The sheriffs then arrested our client and took her to the Avalon jail, where she was booked under suspicion of violating Health and Safety Code §11350 (possession of a controlled substance) and released on her own recognizance to appear in the Avalon Superior Court in about four months.
The client returned to Hawaii and made plans to return to Avalon in about four months. When she did return, the Los Angeles County District Attorney assigned to the courthouse and the case offered to resolve the case for a plea of no contest to a violation of Health and Safety Code § 11350 with no jail, but three years of informal (or summary) probation with an obligation to pay a court fine of $300, plus penalties and assessments (totaling about $1,400), an obligation to perform 80 hours of community service, a stay-away order from the Avalon Casino and a Fourth Amendment waiver during the period of probation
The judge in Avalon looked at the booking sheet for our client and noticed she was an attorney. He then asked the prosecutor what her offer was on the case, which the prosecutor stated and explained she could not offer diversion to our client under Prop 36 or PC1000 because she was on probation already. The judge, our client said, seemed upset at the prosecutor and then asked our client if she wanted a few weeks to hire private counsel. He asked this question in a way that suggested this would be wise. The client accepted the judge's "invitation," setting a continued arraignment a few weeks later.
The client then returned to Hawaii and called Greg Hill & Associates. She and Greg Hill discussed the case facts and the People's offer. Greg explained that the client was eligible for both Prop 36 and PC 1000, so the key to having this offered was simply getting the case transferred back to Long Beach, where the Avalon cases go for trial.
The client then retained Greg Hill & Associates. Greg next appeared for the client in court in Avalon and asked the judge to set the matter for trial. This meant the case would be transferred to Long Beach Superior Court and assigned to a different prosecutor. The judge understood exactly what Greg had in mind, as did the prosecutor.
On the next appearance on the case in Long Beach, Greg met with a different district attorney, who Greg had worked with on prior cases.
The prosecutor looked at the file and immediately asked, "Why wasn't Prop 36 or PC 1000 offered on this case." Greg started his answer by explaining that the case was first heard in Avalon. The prosecutor then interrupted Greg and said, "O.K., I get it. No further explanation is needed. Does your client want PC 1000?"
Greg stated yes and suggested that the client attend 52 Narcotics Anonymous (NA) meetings for a dismissal. The prosecutor agreed and the judge called the case.
The judge then asked if the case would be proceeding to trial. The prosecutor and Greg then advised the judge of the agreement for informal diversion.
The judge then ordered that our client attend 52 NA meetings over the next six months and set a progress hearing six months later, adding that if our client shows attendance of all 52 meetings at that time, the case would be dismissed.
The client was very pleased with the resolution, happy that she could avoid a conviction and avoid further anxiety over her professional future.
For more information about possession of a controlled substance, please click on the following articles: