Airport Courthouse, Auto Burglary, 60 Days Community Service
Our client, age 36 and with a family of five children, was arrested in Manhattan Beach after multiple witnesses photographed him with their cell phones as he drove away from two parked cars he had burglarized in broad daylight in the El Segundo area.
Without All the Details, What Happened?: Airport Courthouse, client with extensive criminal history accused of two counts of auto burglary and receiving stolen property, 60 days community service and formal probation.

Police found our client in possession of a laptop computer, ATM card and various other items reported missing from a car burglarized in Malibu several days earlier.
However, police found none of the items reportedly stolen from two cars burglarized in an El Segundo gym parking lot. In fact, our client returned the items about five minutes after taking the items after driving off.

Once arrested, our client wisely refused to answer any questions from police. Nevertheless, police had multiple witnesses and photographs from them of our client.
This case was consequently not so much about fighting the charges as it was about damage control, made more difficult due to six prior convictions our client had, including one where he served two years in prison.
In this regard, a plea bargain involving probation was the clear goal. The client desperately wanted to avoid prison because he had a steady job and his five kids and his wife needed his financial support. If he went to prison, the collateral damage would be extreme.
Greg Hill immediately went to the Hawthorne Police Department personally and delivered a Good Guy packet our client and his wife had assembled. Greg briefly spoke with the detective handling the case and presented the packet for his consideration.
At the arraignment, our client faced two felony counts of violating Penal Code § 459, second degree burglary of a vehicle, and two counts of violating Penal Code § 496(a), receiving stolen property. Our client faced a maximum of thirteen years, if the sentence was structured to maximize punishment. A pre-plea report was ordered.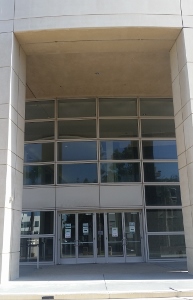 Airport Superior Courthouse
The pre-plea report recommended state prison "unless the case is deemed an unusual case." Greg Hill then submitted the same "Good Guy" packet to the prosecutor, along with a Defense Position Letter explaining the mitigating factors of the crime (the client returned the stolen property after getting "cold feet," problems of proving our client received stolen property knowing it was stolen, the client's large family, the client's steady job and why each of the six prior convictions were not as serious as they might appear). The letter concluded with a request for probation.
The Defense Position Letter and Good Guy Packet apparently persuaded the District Attorney to offer a plea bargain of formal probation for three years, conditioned upon sixty days of community service. It was presented as a "take it or leave it" offer that the DA explained he would probably get in trouble for offering. Our client accepted the offer.
The client's family was very happy, as our client would be home each night and able to continue working. He avoided prison.
If you or a family member has been arrested or charged with a theft offense, call our office today. An experienced attorney can make a big difference.
Call us. One of our criminal attorneys will speak with you immediately and will fight vigorously for you. Call us today at (310) 782-2500 for your free consultation. We are available 24 hours a day, 7 days a week to help you.
When payment is an issue, we have very competitive flat fee rates to represent you or your family member. In special circumstances, we will also consider payment plans where payments are spread out over time. We also accept all major credit cards.
Call us today to let us do the worrying for you.
For more information about the issues in this theft offense case summary, click on the following articles:
Restitution Order Can Apply to One Who Receives Stolen Property, But Does Not Participate in Burglary
For more information about theft and robbery crimes, please click
here
to watch our theft offenses video.
Contact us.