After Prop 64, Marijuana & Probable Cause to Search Vehicle
In an interesting ruling, the First District Court of Appeals in San Francisco ruled, in what we think is a significant case with statewide effects, that Proposition 64, the Adult Use of Marijuana Act, by its terms codified in 2016 at Health and Safety Code § 11362.1(c), bars the presence of marijuana, by itself alone, from constituting probable cause to search a car for more evidence of a crime.
The Reader's Digest Version: There is no probable cause to search a car just based on the presence of or smell of burnt marijuana in the car. This ruling, it should be noted also states that if the container with the marijuana is open, that would not be probable cause to search the car.

This ruling by the First Appellate District was consistent with ruling from other appellate districts and other courts that the mere presence of marijuana does not constitute probable cause to search the car. See People v. Lee (4th App. Dist., 2019) 40 Cal.App.5th 853, 857-858; People v. Shumake (1st App. Dist., 2019) 45 Cal.App.5th Supp. 1, 6 (Alameda County); People v. Johnson (3d App. Dist., 2020) 50 Cal.App.5th 620, 634; People v. McGee (3d App. Dist., 2020) 53 Cal.App.5th 796, 801-802 (San Joaquin County).
The Appellate Court then went even further into familiar territory that other reported decisions have addressed: Does the smell of burnt marijuana alone constitute probable cause to search the vehicle? The appellate court said such a smell alone, without any suggestion to the police officer than more than 28.5 grams was in the car or that the driver was operating the vehicle while impaired by marijuana, was not probable cause to search the vehicle.

The underlying facts of the case were that at about 11:00 p.m. on September, 2018, Dontaye T. Hall was driving his car in San Francisco when he was pulled over for a nonoperational license plate light.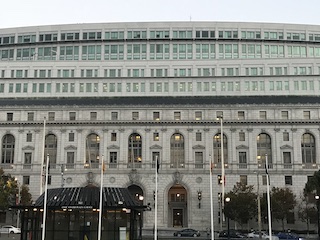 Court of Appeal First Appellate District San Francisco
Officer Steve Colgan claimed he saw a clear plastic baggie of a green leafy substance that he believed was marijuana in the center console and that the car's ashtray had burnt cigar wrappers commonly used to roll marijuana into a joint. He also said Mr. Hall had broken up bits of marijuana in his lap while sitting in the car, implying Hall was rolling joints and smoking them while driving his car.
Interestingly, Colgan said he did not smell marijuana as if Hall had been smoking while driving. This, we believe, was an important fact to the appellate court later. Colgan also said he did not notice any signs that Hall was under the influence of any drug or alcohol. Colgan further testified (at the preliminary hearing) that he had no information that Hall was armed and dangerous or otherwise in the process of committing any crime.
Colgan, however, had Hall exit the car so he could search it because Colgan understood that having an open container or open package of marijuana (defined as marijuana not being in a sealed contained) was a violation of the law, which is correct. Health and Safety Code § 11362.3(a)(4). Colgan considered the plastic baggie an open container. Colgan then found a loaded handgun in a backpack in the car.
Hall was then arrested, charged with carrying a loaded firearm in a public place (Penal Code § 25850(a)) and carrying a concealed firearm in a vehicle (Penal Code § 25400(a)(1)), and in court, he moved to suppress the evidence of the handgun, arguing it was found during an unlawful search because the plastic baggie was not an "open container." The trial court judge in San Francisco Superior Court, Braden C. Woods, denied the motion "based on the totality of the circumstances and the evidence in this case . . . the officers did act reasonably during each step of the process." The judge further noted that individuals are not permitted to possess open containers of cannabis or cannabis products or to smoke or ingest cannabis or cannabis products while driving. Health & Safety Code §§ 11362.3(a)(4) and (7).
After the motion to suppress was denied, Hall entered into a plea bargain to a violation of misdemeanor carrying a loaded firearm (Penal Code § 25850(a)). He was placed on six months of informal, or summary probation with credit for six months served already in county jail.
Hall then appealed this ruling to the First Appellate District, which reversed the trial court, citing to Health and Safety Code § 11362.1(c), which was part of Prop 64, which says that cannabis and/or cannabis products that are deemed lawful by Prop 64 "are not contraband nor subject to seizure, and not conduct deemed lawful by this section shall constitute the basis for detention, search or arrest." In other words, the plain language of Prop 64 prevents such a search as was conducted here, regardless of what the "open container" provisions may otherwise seem to allow.
We present this summary to clarify what we believe is a common misunderstanding by law enforcement that an open container is carte blanche to search a car, when Prop 64 specifically addresses this, refuting that basis for a search.
The citation for the First Appellate District Court ruling discussed above is People v. Dontaye Hall (1st App. Dist., 2020) 57 Cal. App. 5th 946, 271 Cal. Rptr. 3d 973.

For more information about probable cause to search based on the smell of marijuana, please click on the following articles: