A Pardon in California - Why Apply, When, Limits?
A pardon from the Governor of California (currently Gavin Newsom) is best thought of as an honor of being found rehabilitated after a conviction in a California court (the Governor cannot pardon military crimes or federal crimes). Some may think of it as being "excused" for a crime, but this is far from correct.
It is wise to know from the outset that while Governor Jerry Brown issued over 1,000 pardons between 2011 and 2017, Governor Schwarzenegger and Governor Gray Davis issued just 15.
In a Nutshell: A pardon is often sought by those keen on removing the stigma of a conviction for an embarrassing offense, ending the obligation to register as a sex offender or to help avoid deportation. Pardons are not granted freely and one must show strong evidence of rehabilitation.

Those who typically seek a pardon do so for three main reasons, although there are multiple other reasons. First, a pardon, to some, removes the lifelong stigma of being considered a convicted felon or misdemeanant. Second, a pardon relieves a registered sex offender from the continuing duty to register periodically with law enforcement and self-report one's whereabouts when one moves from place to place, even on short vacations. Third, a pardon can help someone facing deportation, but it is not an affirmative defense.
A pardon also restores one's California firearm rights, but it does not restore one's federal rights if barred under the Lautenberg Amendment (a presidential pardon is required to restore one's federal firearm rights). It also restores one's right to apply for certain state professional licensing like restoring one's right to practice medicine, law, dentistry, real estate, etc. It also restores one's right to serve on a jury in a California court and the right to be employed as a county probation officer or state parole officer.

Two common misperceptions here should be dispelled. First, a pardon is not required for restoration of one's right to vote. The right to vote is automatically restored to a felon once discharged from parole or release from prison, whichever is later. Second, a pardon does not result in an order to seal the police report and record, or erase / remove / delete the conviction off one's record. The public, including employers, can still see the record of the conviction.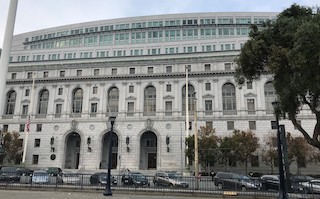 CA Supreme Court San Francisco
Depending on the conviction, one can apply for a pardon after a period of rehabilitation varying from seven to ten years after one completes probation or is discharged from parole. During this period, the applicant must not be convicted of any serious crime.

To apply for a governor's pardon, three routes are generally possible. First is to file a direct request with the governor's office. This is the only route if one is seeking a pardon of a misdemeanor conviction of if one is sentenced to death. It is also the only route one can use if one does not satisfy the residency requirements for a certificate of rehabilitation, as discussed below. An application is available at www.gov.ca.gov or it can be requested in writing through the Governor's Office, State Capitol, Attention: Legal Affairs, Sacramento, CA 95814.
There is no filing fee for a pardon.
Second, one may petition for a certificate of rehabilitation (only if one is seeking a pardon of a felony or a misdemeanor sex offense which was expunged), which if granted, makes that person automatically recommended by a judge and then eligible for a governor's pardon. In applying for a certificate of rehabilitation, one must continually reside in California for at least five years after completing probation or being discharged from parole prior to applying.

If one is seeking a certificate of rehabilitation for certain sex offenses, the residency requirement period can be two to five years longer. A person convicted of possession of child pornography, Penal Code § 311.2 and 314, must wait two years longer or seven total years. Certain sex offenses are not eligible for a certificate of rehabilitation, including Penal Code §§ 286 (sodomy with a child), 288 (lewd acts with a child under 14), 288a(c) (oral copulation with a child), 288.5 (continuous sexual abuse of a child) or 289j (forcible sexual penetration of a child). Applicants convicted of any other offense requiring registration under Penal Code § 290 must wait a total of ten years after discharge from probation, prison or parole.
People convicted of other crimes must wait at least nine years to satisfy the residency requirement before seeking a certificate of rehabilitation. These crimes include any offense that includes a life term, as well as Penal Code §§ 187 (murder), 209 (aggravated kidnapping), 219 (derailing or wrecking a train), 4500 (assault by someone serving a life term on another with force likely to cause great bodily harm) and 12310 (use of explosives or destructive devices causing death, mayhem or great bodily injury).
Third, the California Board of Parole Hearing (BOPH) can recommend a pardon for people currently in prison.

After the Governor's office receives a pardon application, it can request more facts from the District Attorney's office that prosecuted the case.
If an application for a pardon is denied, the Governor's office is not required to give a reason to the applicant.
For more information about post-conviction relief options, please click on the following articles: